Buckle Up: The Fanny Pack Is Back and Better Than Ever
The trusty waist bag is having a renaissance. Here are nine great options to consider.
by Jon Gugala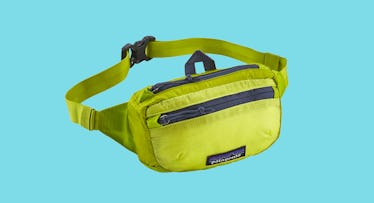 Growing up, my father was never far from his black leather fanny pack. He used to wear holes through them, snap their waistbelts, shatter their buckles. He ran the bags hard until they gave up the ghost, and then the long search would begin to find a replacement, as they had long passed out of vogue. But his fanny packs were immensely functional, as evidenced by the fact that he always had something in them to fix just about anything. A multitool? Check. Superglue? Of course. Bandages, bubble gum, and a roll of duct tape, all present. It wasn't until years later, well beyond high school, that I acknowledged their incredibly practicality.
Lucky me (and you), sourcing one today has never been easier. The fanny pack has undergone a renaissance of late, and it's been decades since there has been such variety of offerings. From material — leather, canvas, ripstop, and cotton — to size — from a liter up to 12 — their range is broad and their prices, diverse. These are 10 of the very best fanny packs for men. All you have to decide is which will meet your particular parenting demands. But choose wisely — in a few short years your own children may be writing stories about their father and his strange, useful accessory. They'll learn.
Hunter Cycles Shred Pack
Plenty of companies dance around the function of their fanny packs. Not Hunter, which proudly claims its offering capable of "holding four 12-ounce cans." But the Shred Pack is more than just a beer Sherpa. A waterproof zipper, internal key loop and divider, and three-liter carrying capacity make it a multi-functional carry.
North St. Pioneer 12 Pack
The made-to-order Pioneer is 12-inches wide for max storage while quickly converting into a bike bag. Off-body, its long, three-quarter zipper allows you to open and lay it flat, creating an in-a-pinch changing surface for infants. A zippered front pocket stashes an iPhone, while its main compartment has two more zippered pockets, a few stash areas, and two strips of Velcro for future customization.
Patagonia Lightweight Travel Mini Hip Pack 1L
Its one-liter volume is the smallest on the list, but at a scant 3.5-ounces this pack is also the lightest. If you're an ultralight dad, this is your technical waist pouch. Longtime patrons of Patagonia will recognize its signature ripstop nylon. Rest assured, it's still got a dedicated key loop, zippered pocket, and enclosed stuff sack when it's not in use.
L.L. Bean Stowaway Hip Pack
At just a half-ounce heavier than the Patagonia option, L.L. Bean makes good use of the weight by utilizing a back mesh panel that is both more breathable and more padded from angular objects inside. But rest assured, it doesn't sacrifice the usual front and main zippered pockets.
Mission Workshop Axis
Leave it to an urban cycling company to come up with our most rugged pack on the list. The Axis is made from a weatherproof fabric and sealed with a waterproof zipper. It secures with a laser-cut waistbelt the feels as good as it looks. With a spot to secure your U-lock en route, it's a biker's delight.
Duluth Pack Fanny Pack
Anyone who's owned one of Duluth's legendary canoe packs will testify that the company knows its way around waxed canvas. The Fanny Pack is made from this same rugged 15-ounce material, fringed with web trim and embossed with its signature leather patch.
This article was originally published on