Best Family Tents Under $200
Take the family into the wild with one big, comfortable (and affordable) tent.
by Ben Radding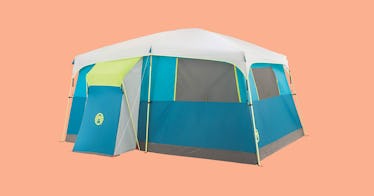 The right family tents and camping tents are crucial if you want to have an outdoor adventure with minimal whining. Kids can learn a lot from nature, and there's no shortage of great family activities, from hiking to mountain biking to climbing, that can only happen in the great outdoors. But if, after a long day outside, you and your family retreat to a resort or cabin, you're missing out on the stargazing and storytelling that make camping great. Of course, you'll need one of the best camping tents to make sure everyone can rest comfortably.
There dozens of solid tents out there. The best camping tents for families fit at least four people and weigh under 30 pounds packed up, making them large but portable. And because it's easy to spend a ton of cash on fancy options, we limited our search to tents that go for less than $200 even if they're not great for extreme weather that, let's face it, you don't want to be out in with your family anyways. And for these prices, you'll pay for your new family tent the first night you use it instead of staying in a hotel.
Best Family Tents
Pros: This tent won't get stuffy, thanks to its five mesh windows. It takes roughly 10 minutes to set up. It's waterproof and windproof. And it's spacious inside.
Cons: The zippers could use some improvement, and you need two people to set the tent up.
Pros: This family tent sleeps nine people and fits three queen air mattresses. And you won't feel crowded in because two additional ridge poles maximize indoor space. Plus, the set up is easy.
Cons: There are consistent complaints about the quality of the poles.
Pros: This tent is going for just $50, an excellent price for one that fits four. It has protected seams, zippers, and waterproof floors that will keep water out of your tent and a door awning that will let you and your kids peek out at the storm without getting drenched.
Cons: Sixty-three square feet can technically fit four people, but we wouldn't call it a comfortable fit.
Pros: It's big enough to fit an entire queen-sized mattress or four people in sleeping bags. Built-in storage pockets and a gear loft allows you to store whatever you need without it cluttering your space. A water-repellent polyester, sealed seams, and an included rainfly will keep you dry during a rainstorm, and an electrical access port lets you charge up any devices you weren't able to leave at home. It's best feature is the pre-built frame that makes setup simple as can be.
Cons: It only fits four, so if you've got a big family, you might be a little cramped. The 54-inch ceiling also isn't what we'd call roomy, so expect to use this tent more for laying down than standing up.
Pros: You can choose between two- and four-person sizes of this tent. Each comes with waterproof fabric, a waterproof tarp, and waterproof tape on the seams. And if it's not raining, you can open up the mesh windows or roll up the sides to form a breezy shelter that won't overheat on hot summer days.
Cons: The Night Cat isn't the roomiest tent, and some users said they needed more space to fit four people comfortably.
Pros: This is a solid price for a tent this big, particularly one that includes an enclosed lounge area that keeps you outside but safe from mosquitos. It has a removable airfly, accessory pockets, and mesh openings for ventilation for warm-weather camping.
Cons: It weighs almost 30 pounds, which is a lot to lug, so you might want to save this one for campsites you can drive to.
Pros: The cabin construction of this tent means that even tall dads can stand up straight comfortably in it. There's also a clever zippered flap that lets you run an extension cord into the tent without letting in water, bugs, or worse.
Cons: This tent weighs less than 20 pounds, but part of that may be due to a thin floor material. If you plan on tackling damp or rocky terrain, it may be worth your while to select a tent with a thicker material.
Pros: Durable fiberglass poles and steel stakes mean this tent won't blow away. The doors and top are mesh, giving you excellent ventilation. On the inside, you've got small pockets to store all your stuff.
Cons: As far as tents go, this one's pretty basic. That's not necessarily a bad thing, but huge families might miss the extra space and configurations of more elaborate tents. It's also meant more for warmer weather, so if your family is all about fall foliage you might want to consider other tents.
Pros: Again, there's a lounge, people. Who wouldn't want a separate screened-in room that allows for stargazing and provides extra sleeping space. Extended window awnings give you more air circulation. It has storage pockets on the inside for all your gear and an e-port lets you run wired power through it in case your family isn't quite ready to give up their tablets for the great outdoors. The color-coded poles make for easy set-up, and inverted seams increase the tent's weather resistance.
Cons: While it packs down to a small package, we wouldn't call it "light" at 20 pounds. The center height is five feet, eight inches, so while your kids can probably stand you might find yourself stooping.
Pros: There are so many awesome features to this monster, starting with a built-in closet, complete with shelves and a hanger bar. You also get a rainfly to protect against inclement weather, a hinged door for easy entry and exit, storage pockets, and waterproof floors that'll keep the inside of your tent dry even if you have to pitch it on damp ground.
Cons: It's not the quickest or most seamless camping solution, and you can expect some serious bulk carrying it around. Whatever — technically, it's a workout, and you can reward yourself with a s'more or three afterward by the campfire once everything's set up.
Pros: Two removable room dividers can create three separate rooms in the tent, giving you at least a little privacy, plus a center door and two separate side doors create some extra separation should you need it. Six windows provide solid ventilation and panoramic views, and the tent's taped fly seams make it water resistant.
Cons: At around 30 pounds, we wouldn't exactly call this tent light. Plus, due to state restrictions, it's not available for sale in California. If you live in California, congratulations, you have some of the best wilderness areas in the country — but you're out of luck here.
Every product on Fatherly is independently selected by our editors, writers, and experts. If you click a link on our site and buy something, we may earn an affiliate commission.