4 Family Tents That Set Up In a Matter of Minutes
Because you have better things to do than spend three hours wrestling with tent poles.
by Doug Schnitzspahn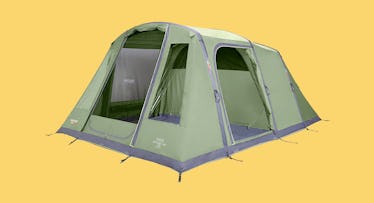 Most family tents, it seems, require a Masters in mechanical engineering to set up. That's not something that's befitting to most casual camping families. Especially not after dealing with a careful of hot, cranky kids singing show tunes and rolling up at your campsite in the dark because it took you hours to pack the car. Plus, no one wants to sleep with the whole family in a tent that's not up to the job — that packs you all in too tight or won't zip shut (or open in the event of that middle-of-the-night pee emergency.
That brings us to an all-important precept of car camping: Find a tent that's easy to set up and comfortable for the whole brood. To help you up, we settled on a foursome of family tents that are not only easy-to-set up but that are reasonably priced, too. Some inflate, while others have pre-attached poles so you don't have to fiddle with propping up a tent when you get to the campground at midnight. All will make it faster for you and your brood to erect a stable, roomy shelter for the night in a matter of minutes.
Best Inflatable Family Tent: Vanago Odyssey Air 500
Inflatable tents forgo poles and replace those supports with tubes that you pump up with air to provide support, making for lightning-fast setup. This large tent from nifty British brand Vanago, which distributes here in the U.S. on Amazon, is ideal for comfy summer camping. It simply could not be easier. There are no poles or adjusting. You just plug in the pump and start plunging while it inflates in front of you like a fun house. Kids of all ages can help, too, even if they don't push a lot of air in, they feel as if they are a part of camp set up—and older kids can do it solo. Inflation takes from eight to 15 minutes, depending on who is pumping. The five-person tent fits four (and maybe a dog) comfortably and includes inner divers to create two separate rooms. It also comes in six- and eight-person versions for bigger clans. Just know that if you break or forget the pump, you're out of luck.
Best Four Person Family Tent: Coleman Fast Pitch Instant Cabin
This is a classic four-person car camping tent for the family looking to spend a few nights out under the stars while not breaking the budget—and Coleman's Fast Pitch system makes it a snap pull out for he trunk and stand up in a hurry. The Fast Pitch system consists of pre-attached poles and a main tent and rain fly that are all connected together. There's no messing around with threading poles of different sizes. That means the ent goes from a lumpy pile to a cozy shelter in about two minutes. The price is tough to beat for a tent that can handle the abuse of a few serious summers use at the lake or up in the mountains. It's also the perfect tent for backyard sleepovers. It may not have as much space as the Vanago (above), but it's still completely adequate for a family of four.
Best Big Family Tent: Core 9-person Instant Cabin Tent
Looking for that big, value-oriented tent that can hold the whole clan. This classic rectangular design serves up plenty of space and you don't have to wrestle with it and spend valuable camp time trying to figure out how to pop it up. Pre-attached poles mean you and a handy kid can erect this beast of a tent in just over a minute. Roll it out and pop up and extend the poles and you are in business.Tall (with 6 feet, 5 inches of head space) and airy, this longhouse can pack in a big brood (nine people will be a tight squeeze, however) making it ideal for big families, scout outings, or sleepovers in the backyard. Smaller families will appreciate the room dividers for parental privacy as well as the ability to have a game room and place to store and stage lots of gear. Just note: It will provide shelter doing that overnight rainstorm but don't count on it to take on serious expeditions.
Best Pop Up Family Shelter: Big Agnes Three Forks Shelter
This portable shelter pops up to provide minimal protection from the elements but lots of cool breezes. It also serves double-duty in camp when the sun's high overhead. Since there's not much too it, it's not hard to put up. The poles slip in and tension quickly so that you can have it up within just a few minutes of pulling it to for the stuff sack. Covering 100 square feet, the Three Forks provides plenty of space for a sleepover-style puppy pile, with the added fun factor of sleeping out in the open. You won't find much protection from the elements or privacy here, unless you buy the add-on side walls ($25). Even then, it's only a sleeping tent for fair weather.
Every product on Fatherly is independently selected by our editors, writers, and experts. If you click a link on our site and buy something, we may earn an affiliate commission.
This article was originally published on