The 7 Best Family Cars From The 2016 L.A. Auto Show
But does it come in "metallic pea"?
by Harmon Leon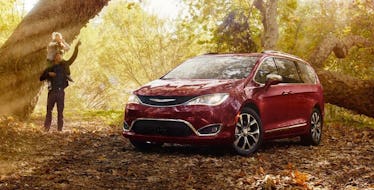 At the 2016 Los Angeles Auto Show, most automakers went big. Really big. There were far fewer sedans and mid-sized cars, more crossovers and SUVs (more than half were the latter). It has been decreed: Well-equipped multi-passenger haulers are the future of the auto industry. That's good news for guys with kids, because these bigger vehicles all put an emphasis on seating, safety, and tricked-out tech. What's a modern car without the ability to charge four iPads, play Toy Story 3, and stream Spotify while simultaneously alerting you of traffic in your blind spots? Useless, that's what. Here are the best new family cars from the major auto manufacturers at the L.A. Auto Show.
Volkswagen Atlas
At 16.5 feet long and 6.7 feet wide, the 7-passenger, 3-row Atlas will be the largest Volkswagen sold in the U.S. So, yes there's room for all the diaper bags, umbrella strollers, and possibly even your child. Complimenting that size are 2 engine options: a 2.0-liter 4-cylinder turbo with 238 horsepower or a 3.6-liter 6-cylinder version with 280. For those times when you take your eyes off the road to de-wedge a blanket from the middle seat, you're covered by such smart safety-features as forward-collision and lane departure warnings as well as autonomous braking and blind-spot detection.
Mini Countryman
Someone might want to test the Countryman for HGH because it is definitely not mini. The 4-door vehicle has 30 percent more cargo space (read: toy and snack space) than the company's previous models, thanks to rear seats that fold and slide. Safety-wise, there's a system of 7 airbags and a smart crash-sensor system that cuts the fuel line, unlocks the doors, and flips on the hazards in the event of an accident. The 134 horsepower ride (upgradable to 189) also has an in-dash tech panel that can connect to Spotify and Pandora, and offers a sonar-esque parking system that makes it easier to squeeze into the school drop-off line without bumper-tapping the head of the PTA.
Honda CR-V
Honda finally shoehorned a bit more oomph in the fifth generation of their sporty SUV: While the base model features a rather standard 184-hp, 2.4-liter 4-cylinder engine, the EX, EX-L, and Touring models have a 1.5-liter turbo engine with 190 hp. Elsewhere, you'll find some teched-out, toddler-satisfying touches, including a new 9-speaker, sing-along ready sound system and, best of all, a total of four USB ports – two of which are high-powered 2.5 amp units. Meaning? Even when you're ready to lose it on hour 4 of the traffic-clogged crawl to your weekend home, Dora will still be able to entertain the kids.
Jeep Compass
The redesigned Compass, which looks like the tiny cousin of the Grand Cherokee, provides Jeep with a vehicle in the Crossover SUV category. The 5-seater will provide you with a 2.4-liter, 4-cylinder with 180 horsepower and a smoother ride: Engineers added frequency damping shock absorbers on the front and rear struts to squash vibrations and keep sippy cups from flying when you hit a pothole. Nearly 27 cubic feet of cargo space (53.6 if you fold the seats down) and two off-road packages (Active Drive or Active Drive Low, both of which feature full-time 4×4) offer the goods you'll need for family getaways that are far aways.
Nissan Versa Note
Is an SUV not in your family plans? Then the updated subcompact hatchback version of Nissan's popular Versa might be. With its sharp lines and swept-back headlights, the 5-seater looks more weekend warrior than Wet-Naps and bottles. It has a respectable 18.8 cubic feet of cargo space, two 12-volt outlets and generous USB ports makes it right for small families. Bonus: Its Big Gulp-sized cup holders can fit a snack tub of goldfish, which means less crackers crushed in the floor mats. Available in 1.6-liter 4-cylinder engine, good for 109 horsepower.
Chrysler Pacifica, Hybrid
Besides all the room you expect from the mini-van genre, the Pacific Hybrid plugs in, using a 16-kWh lithium-ion battery pack that nets a pure range of 30 miles. To keep the kids amused, the rear seat entertainment system plays movies and built-in games while offering internet access via 2 10-inch touchscreens. A built-in vacuum cleaner comes in handy for those times when the back seat looks like you got t-boned by a Nabisco truck. And the "Are We There Yet?" function lets the kids know how much time is left in the drive — so you never have to.
Ford EcoSport
Built and sold in Europe and Asia since 2003, the EcoSport will finally be making its way to the USA. It's more Fiat than Ford, but the car is technically a subcompact. In fact, it's one of the smallest SUVs around. An intelligent 4-wheel drive system helps keep the tires spinning on most conditions. Ford's 8-inch touchscreen Sync system, connectivity with Android Auto and Apple Car Play, multiple USB jacks, and a Bang & Olufsen speaker system will keep the kids entertained. And there's an integrated app that lets you remotely start your car, and helps you locate it if it's stolen. Which is what happens when criminals see an empty car that's running.
This article was originally published on