The Best Family Cargo Bikes for Hauling Kids and All in 2021
Ready to trade in the minivan? Here are six family-friendly bikes that get the job done.
by Jen See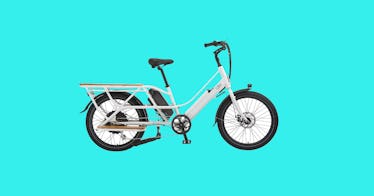 For over a century, people have relied on the durable design of cargo bikes to deliver everything from tulips to milk and mail. And it's not hard to figure it out why: They hold a ton, are easy to navigate, and, when compared to a car, have substantially lower maintenance costs. (Bonus: They don't send greenhouse gasses into the air, though they will burn through your quads.) In 2021, even old dogs can learn new tricks, and many modern cargo bike manufacturers are harnessing electronic-assisting motors to give cyclists an extra boost. Whether you're looking for the latest battery-powered tech or just looking for a heritage, human-powered option, the best cargo bikes for families excel in every imaginable category. Grabbing groceries, carting your kids to school, or slapping on a surfboard, the modern crop of cargo bikes does it all — and with ease.
How do you choose which silo is best for you? The short answer is "hills." If you live in an area with mostly flat roads, you may be able to get away without an electric motor. But load multiple kids and a bag of supplies or two, and you'll likely want a little help with the pedaling, which is why the rest on this list provide an electronic assist. (Just make sure the bike you choose has enough battery range to cover your daily routine.) We've also noted which bikes can be outfitted with a backup battery, which is godsend if you have a lot of ground to cover.
Most cargo bikes are designed so that you can configure them to meet your specific needs, but accessories can add up quickly: Be sure to factor in the cost of child seats, racks, utility bags, and the like when choosing your bike.
Best Electric Bike on a Budget
Best Bike for Hilly Terrain
Best Bike for Large Loads
Best Human-Powered Cargo Bike
Best Bike for Carrying Kids
Best Cargo Bike for Small Spaces
Every product on Fatherly is independently selected by our editors, writers, and experts. If you click a link on our site and buy something, we may earn an affiliate commission.
This article was originally published on