The Best Espresso Machines For Your Home
The best shot-makers for your buck, including a $280 machine that's perfect for novice brewers.
by Hudson Lindenberger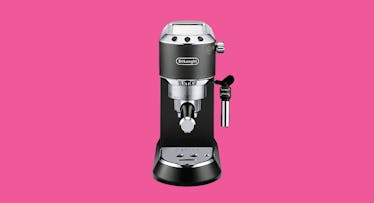 A drip coffee machine is a necessity; a home espresso machine is a nice luxury. But making your own espresso coffee is a fantastic way to start your day and, if you've been buying those beverages from a coffee shop, it's time to invest in the best espresso machine for your home.
The good news is that if you're in the market for an espresso machine, there's never been a better time to buy one: a blitz of technological improvements mean you don't have to be a trained barista to pull a morning shot.
But even though you don't need to drop $14,000 on a La Marozcco Linea EE, an espresso machine is still a big purchase. It's also hard to shop for, with the specific preferences of demanding connoisseurs resulting in some highly technical differences between machines that make it hard to tell what's worth the money and what isn't.
"You really do get what you pay for with home espresso machines," says Alexandra LittleJohn, the director of wholesale operations for Ozo Coffee, and past board member of the Barista Guild of America. "If it looks cheap, and is cheap, chances are it will break soon and you won't get good coffee."
She recommends looking for a few different features in a home espresso machine. First, it needs to have a good boiler system that will deliver water at a temperature of at least 195 degrees with at least nine bars of pressure. You also want a basket that can hold a larger amount of coffee, so you can put in enough grounds to suit your taste. You'll want a double boiler if you always froth milk, but it's not required. What is, however, is a system that can guarantee no loss of pressure if you are frothing while pulling a shot. And she recommends avoiding pod-based machines. "You will pay at least 250 percent more than you would just grinding your own beans, plus the coffee's not that good and they are an environmental mess." Her picks for the best home espresso machines differ wildly in price and feature set, but they give you the ability to make quality shots in the comfort of your own kitchen.
Best Home Espresso Machines
Pros: Sick of paying $7 for a latte? Get this machine instead. It brews espresso coffee with a 15-bar pump system and automatically froths milk into cappuccino and latte selections.
Cons: The quality and performance are inconsistent.
Pros: Every coffee nut will tell you that only freshly-ground coffee is worth drinking. And this espresso machine has an adjustable steel burr grinder for total control of the grind and beverage strength. And the frother works with soy, almond, coconut, rice or cow's milk. Oh and the machine basically cleans itself and doesn't use wasteful pods.
Cons: It's expensive, but saves you major money in the long run, if you're switching from a pod device.
Pros: Not only does this Nespresso look smart, it is smart. It reads the bar code on your capsule so you get a dreamy cup of coffee every time. It has an extra large 54 ounce water tank and a 17 count used capsule container. It heats up in 15 seconds, which is very nice early in the morning.
Cons: The capsules aren't cheap, and they're fairly wasteful, unless you recycle them.
Pros: The Mr. Coffee Café Barista has an electric 15-bar pump that results in rich coffee. One-touch controls let you choose between single or double shots and automatically froths milk with an adjustable control knob, taking the guesswork out of making a great coffee.
Cons: Be prepared to clean this machine on the regular. Or else you'll have issues.
Pros: The tank holds half a gallon of water and heats it with a Thermocoil system that delivers consistent steam every time. One important caveat: the hopper makes it a bit taller than other machines, so make sure you have ample vertical space where you plan on placing it in your kitchen.
Cons: The top and sides are plastic and will crack if hit hard.
Pros: It's cute, it's compact, it fits anywhere, and in less than one minute, you get your powerful cup of Joe.
Cons: You need those capsules, and they're not cheap.
Pros: The black and chrome espresso machine, has just three illuminated buttons, so it's also dead simple to use. Its slim profile (13 inches tall by just 6 inches wide) means it will fit just about anywhere and it's easy to remove the water tank for refills. The basket can hold enough grounds for two drinks at once. It's also compatible with E.S.E Pods (the non-plastic variety, the only kind of pod you should consider using). If cappuccinos are more your style, the manual frothing wand makes it easy to whip up some foam quickly. "This is a decent machine will make good coffee, but probably won't last more than three years depending on how much you use it," says LittleJohn. At less than $300, however, it's worth picking up if you're not sure how much use you'll get out of an espresso machine.
Cons: There are some complaints of the boiler springing leaks after a while.
Pros: "There is a big debate in the industry about what is more important, the machine or the grinder," says LittleJohn. "Both are equally crucial." She's a fan of this burr grinder, which offers 40 different settings that will turn out precisely ground beans from the top-mounted, eight-ounce hopper on top at the touch of a button.
Cons: It can be messy and leave you with a bunch of excess grinds.
Pros: This is an uncomplicated one-touch espresso machine that gets you your caffeine jolt with zero drama. It has an extra large 54 ounce water tank and a 17-count used capsule container. It heats up in 15 seconds, and has automatic shut-off.
Cons: You have to buy capsules, which aren't cheap, and are wasteful.
Pros: Breville is synonymous with quality, and this espresso machine is no exception. It's precisely engineered to serve you golden, creamy coffee every single time. At the perfect temperature. And it's easy to clean, thanks to built-in alerts.
Cons: It can be too loud for some coffee drinkers.
Pros: We're into the fact that it's ready to brew in five minutes, and is steam-ready in 20 seconds. Plus, it's got heavy-duty controls that let you flip between brewing, steaming, or hot water. You also get a three-way solenoid valve that relieves pressure off the coffee for a dry puck that's mess-free and easy to dump.
Cons: It can be a total pain to clean.
Pros: This is so easy to use. You fill the lower part of the three-part Italian espresso maker with water, put the ground coffee into the basket, put the top on and put the stainless steel espresso pot on the cooker to boil. And your espresso is ready to sip in minutes.
Cons: The top can come loose, so make sure it's on tight before using.
Pros: The most personalized of the bunch, this espresso maker makes your exact cup of Joe, exactly right every time. Without taking up a ton of space.
Cons: The quality is all over the place, so keep your warranty.
Every product on Fatherly is independently selected by our editors, writers, and experts. If you click a link on our site and buy something, we may earn an affiliate commission.
This article was originally published on