The Best Electric Toothbrushes for Adults and Kids
We've cleaned up your options, from Philips Sonicare to Oral-B.
by Donna Freydkin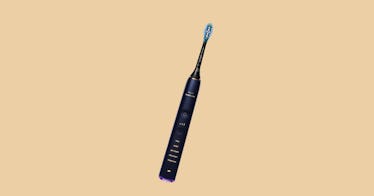 If you want healthy teeth and a dazzling camera-ready smile, get yourself an electric toothbrush, pronto. The best electric toothbrush leaves your teeth feeling they just went through an invigorating yet gentle dental spin cycle.
We all know the basics, that we should brush our teeth twice a day, for two minutes using a soft-bristled toothbrush, per the American Dental Association. And electric toothbrushes are way easier and much more effective than manual ones at giving you that minty-fresh feeling. But there's a dizzying array of electric toothbrushes out there with a host of functions and forms for kids and adults.
First things first, ultrasonic is the gold standard. "Ultrasonic energy cleans further and breaks up the plaque better," says family dentist Dr. Hilary Fritsch, the founder of The Brushies for kids. "Research shows that ultrasonic brushes clean better, especially for kids, who don't have great coordination."
See more: Best Whitening Toothpaste That Is Safe for Your Teeth
So which one to choose? Do you need a basic workhorse that has one setting, or are you a dental diva who's all about customization? Because these days, if you're willing to spend, you can hook up your toothbrush to its very own app, which will tell you when you're brushing too hard, ignoring certain areas, or just being a slacker.
Here are some of our top picks to give your oral hygiene a major boost, covering all price points.
Best Electric Toothbrush
Pros: The bristles around this FlexCare electric toothbrush curve around your teeth, so every crevice is cleaned. It gently cleans your gums, to remove plaque trapped in hard-to-reach spots, without tearing them up. And the handle pulsates when you brush too hard.
Cons: There are some issues with durability.
Pros: Do you need the fancy travel case? The equally fancy toothbrush stand? If the answer is no, get the Brio. It cleans your teeth, makes sure every quadrant of your mouth is covered, and has five modes depending on your needs.
Cons: There are reports of replacement brush heads falling apart. So beware.
Pros: We can't say enough good things about the pressure sensor, which really does minimize over-brushing and helps save your gums.
Cons: The battery life isn't perfect, and it's loud.
Pros: Not only does this sonic electric toothbrush clean your teeth fast. But it does so using indicator bristles that let you know when it's time to change them. Plus, your mouth is full of micro-bubbles, which give you an extra deep clean. It's great for kids with braces or folks with dental implants.
Cons: For those who want a truly deep clean, this brush doesn't seem to have enough pressure.
Pros: This electric toothbrush has three modes and three intensities. It can help remove surface stains. There's a gum care mode, so you can take care of your gums. And there's the BrushSync feature to track how you long you've been using your brush head for, and how hard you've been brushing. The travel case is great for brushers on the go.
Cons: Three modes may not be enough for those of us who need extra brushing TLC.
Pros: Simply turn it on, and let it get to work. It's especially great for unmotivated brushers or those of us who need to pay extra attention to make sure they're getting the job done.
Cons: It's a whole lot of toothbrush, and the price isn't all that easy to swallow.
Pros: If you're someone who hacks away at your teeth, this ultrasonic electric toothbrush makes a subtle pulsing sound to let you know that it's time to tone things down. It has two weeks of battery life when fully charged. And it reminds you when to change your brush heads.
Cons: This specific model has one cleaning mode, so not much of a variety if that's your jam.
Pros: This electronic toothbrush is solid, reliable and basic, at the right price.
Cons: If you do want all the tricked-out options, this is not your brush.
Pros: How often have you bought replacement brush heads, only to find that they're not compatible with the one on your sink? This model works with all Philips Sonicare click-on brush heads, which makes things a whole lot easier.
Cons: Some customers say this brush is too harsh for sensitive teeth and gums, so either tread lightly, or choose another one.
Pros: The DiamondClean electric toothbrush has a visual pressure sensor to alert you when you are brushing too hard, which can damage your gums.
Cons: The price. Before you take this particular plunge, figure out if you're really going to use everything this brush offers, or whether something simpler is a better choice.
Pros: You get the ultimate two-in-one situation here: A robust electric sonic toothbrush with two speeds, plus a water flosser that gets out out crumbs and bits of spinach.
Cons: The brush itself is fairly basic, with two settings, and customers complain fairly consistently about the weak battery life. But hey, if this is what gets you to get hunks of rotten food out of your teeth, buy it now.
Pros: Every 30 seconds, you feel a gentle reminder that you need to move to another quadrant of your mouth to cover every part of it. And it's great for sensitive teeth.
Cons: It's not an entry-level brush, price-wise, but is plenty affordable.
Best Kids' Electric Toothbrush
Pros: This electric kids' toothbrush removes way more plaque than brushing with a manual one. Plus, it nicely forces (or shall we say encourages) kids to brush for two minutes. Meant for kids three and up.
Cons: Oddly, some younger kids are scared of the brushing noise. So help them get over it.
Pros: Trust us, you don't want kids sawing away at their gums. And this toothbrush makes them aware that gentle brushing is best. Best for kids six and older.
Cons: The handle is a bit on the clunkier side, so as stated above, better for older kids.
Pros: This electric toothbrush is custom-built to get kids to brush properly. If this is your cross to bear, here is your brush.
Cons: It's a bit on the pricier side, no question about it.
Every product on Fatherly is independently selected by our editors, writers, and experts. If you click a link on our site and buy something, we may earn an affiliate commission.
This article was originally published on