The Best Electric Scooters For Kids Who Want a Boost
Four excellent models that offer everything a young rider needs.
by Hudson Lindenberger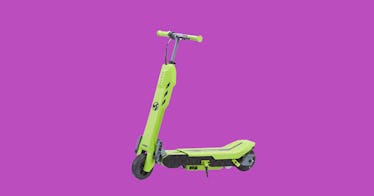 Electric scooters are the new skateboards. The battery-powered rides are everywhere and, while people have their gripes with them (old man shakes fist: darn kids zooming by!), when used properly, they're a fun for kids to cruise around cul-de-sacs.
We do want to make it abundantly clear that electric scooters are intended for older riders. The American Academy of Pediatrics recommends that children under 16 should not ride electric scooters, period.
Electric scooters should be ridden with the proper protective gear (helmets are must for all riders; beginners should wear pads) and, until they're confident, kids should have parental supervision. But what should you look for in the actual ride? We went through the field and came across these five scooters, each of which have excellent battery life (at least 40 minutes of ride time), solid braking systems, a body of steel or a similarly high quality material, and simple throttles. They also have at least four star reviews or higher on a variety of sites. Take a look.
This electric scooter is perfect for kids just starting to get a grip on the whole electric scooter thing. The E100 from industry leader Razor offers kids just enough speed to feel daring (it tops out at 10 mph) and has a responsive hand brake to tamp things down quickly when needed. Its chain driven motor requires a kick-start to begin rolling ensuring that your child is safely onboard. There is a simple to use twist-grip throttle, large deck, and it can run for an hour on a full charge. Its best feature, however, are the blue LEDs embedded in the deck that provide extra visibility whenever it's being used.
With just a flip of a switch, this electric scooter transitions from a regular stand up scooter to one with a seat that, honestly, looks pretty wicked. The deck becomes the seat, two foot pegs pop out, and the steering column simply lowers to a desired height with the flick of one lever. Part of the deck lights up with LED lights for added safety. It has a lever-activated disc brake, kickstand, and a max speed of 10 mph, plus a range of up to six miles.
This electric scooter has a top speed of 15 mph and 45 minutes of battery per charge. There is an extra large deck and two sets of tires so you can upgrade as your kid grows. It's chain driven and has both a twist-grip throttle and hand operated rear brake. It's a classic.
This sit-down electric scooter has speeds up to 15 miles per hour, and 40 minutes of power when used continuously. It has a step through steel frame, a high torque, chain-driven electric motor, and twist-grip acceleration control. There's a hand-operated rear brake and 12 inch pneumatic tires. It charges fully in 12 hours.
Every product on Fatherly is independently selected by our editors, writers, and experts. If you click a link on our site and buy something, we may earn an affiliate commission.
This article was originally published on