The Best Electric Juicers, Masticating Juicers, Citrus Juicers
From Breville to Omega, we get the squeeze on the top-sellers for you to try.
by Donna Freydkin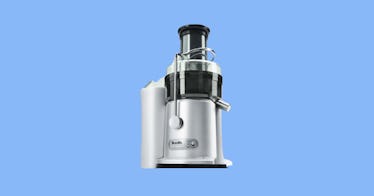 When it comes to fresh, vitamin-loaded drinks, nothing comes close to what you get out of a juicer. The liquid gold that is fresh juice contains more of the good stuff (phytonutrients) found in whole fruit than its bottled counterparts. That means if you (or, more likely, your offspring) are maddeningly picky about what fruits and veggies they will (or won't) eat, juicing is a solid way to get them to try new foods and not even realize that they're actually drinking broccoli and kale.
But there are so many juicers on the market that finding the right one can be messy, to say the least. There are two major categories: the very common centrifugal juicers use a fast-spinning blade to separate the juice from the pulp and cold-press (masticating) juicers that extract the goodness by crushing and pressing fruits and veggies. Masticating juicers they don't generate as much heat as centrifugal juicers, and they keep more of the nutrients intact. And then there's the citrus juicer, which, like its name indicates, squeezes out fresh grapefruit, orange, lime, and lemon juice.
"The first thing you want to do is pick one that has a big enough feed tube so you don't have to pre-chop everything," says Lisa McManus, the executive editor of tastings and testing at America's Test Kitchen. "That makes it take twice as long."
Also, when it comes to juicers, bigger is better. "You want big, simple easy-to-clean parts, and the fewest possible nooks and crannies. You want to rinse it out really easily and use it again. You don't want to pick it apart like a surgeon. Otherwise you'll never use it. You want to easily dispose of the pulp, so you want a container. And make sure you like what the juice tastes like," she says.
With all this in mind, here are the best juicers to make sure you get your money's worth.
Pros: We appreciate that this juicer has got a wide input chute, which means you don't even need to chop up apples. Plus, it's easy to clean. It's a stellar juicer for the entire family.
Cons: It's not great with leafy greens.
Pros: The removable parts of this traditional juicer are dishwasher safe, so cleanup is a breeze. Among those parts: an extra-large pulp bin that holds multiple servings of juice.
Cons: With its translucent brown plastic exterior, it's not the prettiest juicer on the market. It's also not a cold press juicer, which might turn some people off.
Pros: This juicer is especially relentless when juicing leafy greens, grasses, sprouts and herbs. And almost like a LEGO set, all its parts are idiot-proof in how they fit together. Plus, it's got suction cups that keep it in place on your counter. Truly, you can't get a better juicer for the price.
Cons: It's loud, so if you have delicate ears, or your neighbors do, choose another one.
Pros: It's ideal for those of us who want to make it, store it, and drink it the next few days. Oh, and it extracts every bit of juice from fruits, vegetables, leafy greens, and wheatgrass.This is a low-speed juicer, meaning that it prevents oxidation and allows juice to be stored up to 72 hours without going bad.
Cons: It's a lot of juicer, with a slew of functions, so make sure you're going to use them before you invest.
Pros: The detachable smart cap makes for easy rinsing and cleanup.
Cons: The price.
Pros: For this price, you'll be in Vitamin C heaven. And this clever, innovative and affordable juicer lets you choose your pulp setting for a custom cup of orange juice. It has an auto-reversing cone for more efficient juicing, and a final spin that yanks all the juice from the pulp.
Cons: The strainer needs to be cleaned frequently.
Pros: It's gorgeous and functional.
Cons: It's pretty basic, for the price.
Pros: This juicer operates at less than 60 decibels, making it quieter than many models currently on the market. It comes with a cleaning brush that makes it easy to keep the mesh filter clear.
Pros: The double-edged auger means less jamming and less pulp than most models, which use single-edged augers. The motor is powerful (200 watt) and slow (47 RPM) for easy juicing with 2-3 times the torque of similar models. Oh, and there's a ten-year warranty.
Cons: This is an expensive machine, and it only seems to come in red, which won't fit every kitchen's decor.
Every product on Fatherly is independently selected by our editors, writers, and experts. If you click a link on our site and buy something, we may earn an affiliate commission.
This article was originally published on