12 Actually-Good-For-Them Baby Products To Add To Your Registry
Green isn't just for hippies anymore.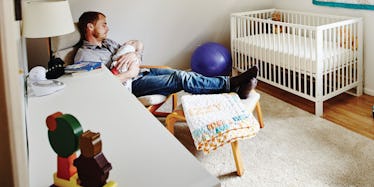 The following was produced in partnership with our friends at Babyganics.
Once upon a time, "Only the best for my baby" strictly referenced the five-course puree you whipped up for them using only foods you harvested yourself from your backyard garden. Nowadays, though, everything from baby cribs and strollers to toys and pacifiers are made with utmost attention paid to being better for both kids and the environment. To ensure your kid will one day know how to spell "B-P-A F-R-E-E" with their blocks, consider this baby registry starter pack of a dozen eco-friendly products that are good for the environment.
Baby Cleaning Essentials: Babyganics Essentials Gift Set
Clean every surface on your body and theirs, plus a few crucial ones around the house like toys, tables, high chairs, dishes, and bottles, with this all-in-one starter kit. None of it will stay clean, but you'll go through every wipe and drop of lotion, soap, and sanitizer trying. And you can use it up without fear of harming your kid or the environment because they're all made of safe, plant-based materials.
Baby Crib: Babyletto Lolly
The Lolly is made of the same sustainable New Zealand pine and non-toxic finishes that make Babyletto's Bowery one of the best bassinets available. Greenguard Gold certification means it's been screened for 360 VOCs (carbon-based chemicals that easily evaporate at room temperature and toxify nurseries worse than wafting diaper bins) and 10,000+ chemicals — lead and phthalates included. Toddler and daybed conversion kits are included, so it's also sustainable in that you'll use it for more than four months.
Baby Crib Mattress: Naturepedic No-Compromise
New Zealand pine might be sustainable, but it's pretty uncomfortable to lay on. Naturepedic gives your kid a comfy landing zone that's easy to clean and made of pure, American-grown, certified organic cotton, which meets the Global Organic Textile Standard. It's Greenguard Gold certified not to emit toxins into the nursery air and passes all federal flammability standards without chemicals. Potato-based ingredients are involved, so it's probably delicious to boot.
Pacifier: Natursutten
There are a bunch of acronyms and numbers involved in making this sustainable rubber godsend the safest pacifier for your kid. All you really have to know is it's certified on every continent to meet or exceed all health, safety, and environmental standards and get your kid to stop screaming. For shorthand, call it suck-safe and "WAAA!"-approved.
Natursutten Original Pacifier
Natursutten Butterfly Pacifier
Baby Carrier: BabyBjörn One Air
The OG and still champion of the baby carrier world … did you expect someone else? The only update left for Björn was a green one, and now their most breathable and ergonomically advanced carrier is made with Oeko-Tex certified fabrics (that's the gold standard test for all textile products) free of hazardous substances and allergens. Gnaw away, Baby Carlos.
Baby Stroller: Bumbleride Speed
This is the closest thing to an organic stroller short of fashioning a rickshaw from chiseled rock wheels and bamboo. Instead of PVC, phthalates, fire retardants, or polyurethane foam, it features lightweight yet sturdy aluminum components (very high strength-to-weight ratio), Oeko-Tex- and Bluesign-certified fabrics, and 100-percent recycled plastic bottles spun into polyester (rPET). The only toxins that will touch your kid are the ones you sweat out — so remember to pop the canopy.
Diapers: Babyganics Baby's First Bundle Of Love
These diapers are not only ultra-absorbent, they're kid- and environmentally-friendly thanks to chlorine-free, renewable, plant-based ingredients like a NeoNourish® Seed Oil Blend that keeps their baby butt soft as a baby's butt. The 58 that come in this bundle won't nearly be enough, but you also get a bunch of wipes, diaper rash cream, hand sanitizer, $40 in coupons, and a cloth toy chest for all the other stuff people will buy you that you'll wish were diapers.
Changing Pad: Naturepedic Organic
It's pricey for an unglamorous item, but for as much time as your baby will spend there au naturel, you want their changing pad all natural. Naturepedic's is made of non-allergenic, chemical-free cotton fabric, filling, and support foam (no vinyl, polyurethane, PVC, phthalates, latex, or wool); exceeds federal flammability standards with no added toxins; and has a food-grade polyethylene coating. Finally, a changing pad so clean you could eat off it! (Note: do not do this.)
Playmat: Nook LilyPad
Portability and versatility are the main selling points for the LilyPad. The bonus points are that your kid gets one more piece of BPA-free gear in their kit, while learning where their face is and how to lift it off the ground. The cover is designed for equal parts softness and microbe- and liquid-resistance, which is smart, because babies love producing microbial liquids.
Baby Toy: Green Toys Puzzle
You'll eventually convince your kid that food isn't a toy and toys aren't food, but for now, that's a losing battle. Their feeble little brains tell them to gnaw everything to learn what it is, like a tinier, less evolved shark. These puzzles encourage motor skills growth with 100-percent recycled, BPA-, phthalate-, and PVC-free plastic that meets FDA food contact standards and is packaged with recycled materials and soy-based inks. It's even dishwasher safe, to confuse the whole food/play issue even more.
Baby Bottle: Natursutten
At the very least, the stuff your kid's supposed to put in their mouth shouldn't contain plastic and chemicals. You have options, but for bottles, go with Natursutten's dishwasher-safe, thermal-shock-resistant, borosilicate glass. All you have to know about what "borosilicate" means is that it's made in France, so it makes your baby super sophisticated. The glass is free of BPA/BPS, phthalates, polycarbonates, and PVC, the nipple is all-natural rubber, and even the packaging is biodegradable. Perfect for baby's first wheatgrass smoothie.
Rubber Duck: Hevea Alfie Junior
They say there's no manual, but if there was, "KID MUST HAVE A RUBBER DUCKIE" would be on page one in big, bold letters. You'd never make it to the part where it says said duckie must not be made of gross, unsafe plastic, so to save you the trouble, here's a 100-percent natural rubber one. It doesn't squeak, because, "Toys must be silent" is on page 2.
This article was originally published on