The Best Dry Dog Foods, According to a Top Veterinarian
This canine grub will keep your dog healthy and active.
by Donna Freydkin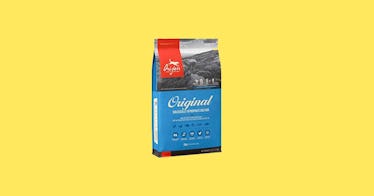 Ask any Facebook friend who won't stop posting pictures of his or dog about the best dry dog food and you'll hear plenty of opinions. But where are the facts? Exotic-sounding ingredients are great and fewer ingredients are even better, but the industry is still full of hype and outright snake oil. It doesn't have to be this way. There's an easy way to find the best canine kibble without developing a migraine in a pet store. So what should the best dry dog food contain? We went straight to the source and asked a veterinarian to recommended their picks for best dog food — and what to look for the next time you're grocery shopping for man's best friend.
What's the Best Dog Food?
Not all dry dog food is created equally, and premium labels can be deceiving. Dog food quality (and price) are all over the place.
"The pet food industry is not well regulated," says Dr. Carly Fox, a veterinarian at New York's Animal Medical Center. Because of this, Dr. Fox warns buyers to not be fooled by packaging and marketing and not to discount the bigger sellers.
Fox recommends shoppers make sure dog food has been evaluated by the Association of American Feed Control Officials (AAFCO) first, and then read the ingredient list to make sure the dog food is rich in high-quality protein and doesn't contain cheap fillers like corn (here's a list of recalled pet food). Pretty packaging and 'premium' small-batch blends don't necessarily make the best dry dog food.
"Artisanal brands may have not been evaluated by AAFCO. Larger brands that are more familiar to you have the money and research to make their food the best it can be," says Fox.
Dry dog food is more convenient because it can be left out for hours, or days, and it doesn't stink (all that much). But if your pet doesn't drink enough water, or is older, wet food is a good choice because it provides extra hydration and is easier to eat, which can be important for elder pooches with dental issues.
As for raw dog food, Fox says to opt-out, especially if you have small children. It's the equivalent of leaving raw chicken on your floor and letting your kids root around in it. The FDA reports that raw food is more likely to be contaminated with bacteria, including salmonella and listeria monocytogenes, which can spread to people when you handle the meat, when your dog licks your face and mouth after eating, or if you don't scrub your hands after touching it. And we all know just how thoroughly little kids wash their digits. These dry dog food options are high quality and low risk.
Every product on Fatherly is independently selected by our editors, writers, and experts. If you click a link on our site and buy something, we may earn an affiliate commission.
The Best Dry Dog Food
The Best Small-Breed Dry Dog Food
The Best Dry Dog Food With Grain
This article was originally published on