9 Best Drones for Beginners
These flying drones are the best picks for your family, at every price.
by Jon Gugala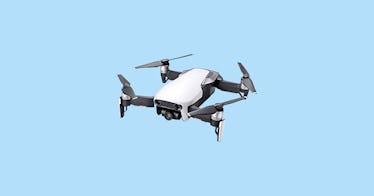 Consumer-level drones are here, and they're fun as hell. They combine the joy of piloting a remote-controlled craft hundreds of feet above the ground with the satisfaction of shooting smooth, high-def video while you do it. But if you're a first-time drone pilot, how do you pick the right model?
Make sure you don't get distracted by the superfluous bell and whistles you'll find on the most expensive models. Instead, focus on the basics. First and foremost: battery life. After all, you don't want a drone that dies on you after just a few minutes of airtime. You should also make sure your new toy has a solid camera capable of capturing gorgeous footage and a range that lets you do a decent amount of aerial exploration. We'd also recommend getting one with return-to-home, a clever feature that automatically brings it back to you. For some examples of models that do all of this (and more!) quite well, check out our favorite drones for beginners.
Pros: Headless mode is a subtle but crucial tweak. Instead of orienting direction to the drone, it orients it to the controller. That means when you steer left it will move left by your perspective no matter where the left side of the drone itself is facing. You can also make it flip and roll with the push of a button, because the object is still to have some fun, right?
Cons: Flying time can be as low as six minutes, so don't plan on any extended flights.
Pros: Listen, if you and your son or daughter are really going to give this drone thing a go, the first accessory you'll need to buy for any drone is a backup battery. The Discovery already comes with one, boosting total flight time to up to 18 minutes. You also get a 720p (HD) camera, one-button takeoff and landing, two speed settings, and altitude hold.
Cons: We have a sneaking suspicion that the reason this drone included an extra battery is that it squandered the first: With as little as six minutes of flight time per battery, you may want to choose a drone that does more with what it's got. Also, the critical "return home" function is absent, which can be especially useful for inexperienced pilots wishing to avoid dropping their drone from the sky after losing track of time.
Pros: Piloting is a good and necessary skill to develop, but the S5C's altitude hold function, which hovers in location, is absolutely crucial for the greatest variety of shots. And about those shots: 720p video (the lowest still considered HD), recorded in the ideal youTube aspect ratio, is ready to go shortly after capture, thanks to its proprietary editing app. Premium functions like one-button takeoff and return, flight plan plotting (via your connected smartphone), and three-speed settings allow for a marked latitude for such an affordably-priced drone.
Cons: Its 10-minute flight time is fine but not great; its video and still capture is better than the basic but far from the quality you would need to create things for anyone other than extended family. Still, for a first drone, you could do far worse.
Pros: The banner headline here is the first person capabilities that come with the VR headset. Kids can fly their drone and look at the sky through it's camera, an insanely cool feature we've not seen on any other models.
Cons: With a battery life of just 10 minutes, expect to do just as much charging as you do flying.
Pros: Two batteries. A max 100-meter range. An auto-return button. Pick a spec and this machine either does it better or twice as long as others on this list. There's a reason it's so popular. HD video is on par with others on this list; its two-megapixel camera takes stills similar to others. And with four speeds to choose from, you can go from hurtling through the air to floating across the horizon with ease.
Cons: Our only gripe — and one we expected more customers to report — was its lack of first-person view (FPV) via a connected smartphone screen. In essence, most copters come standard with an ability to see your scene as you capture it. This drone does not, meaning that you'll have to previsualize footage and stills and simply hope you captured them. Because of this, it's not our favorite for footage, but it's sure to be a crowd-pleaser for speed demons and those who don't mind being surprised when they check out what they shot.
—— that seem tailor-made for novice drone pilots.
Pros: The GPS features on this drone are great. The follow me function does exactly what it sounds like: follow your phone around from above, which we can definitely see being useful for more creative amateur videographers. You can also use your phone to select a location on a map and the T25 will automatically navigate there while maintaining its altitude.
Cons: It couldn't fly without its lightweight plastic construction, but some reviewers have said that video can be a little shaky as a result. It also has a 10 minute flight time, a shorter than we'd like raidus that limits the utility of its GPS features.
Pros: Like the guy in your gym class who went through puberty first, it's almost not fair to pit the ANAFI drone against others on this list. An f/2.4 wide lens allows in tons of light for tack-sharp 21-megapixel photos and 4K HDR video, while a digital zoom allows for a versatile number of looks it can accomplish. Twenty-five minutes of flight time on one battery is also head-and-shoulders better than competitors. But our favorite function is its portability, as it folds up and stores in its included case for easy transport to wherever you want to get some aerial footage.
Cons: While this may be splitting hairs, the key function Parrot fails to include is obstacle avoidance, which is standard on primary competitor DJI's drones. Beginners may ultimately prefer this, as damaging a machine this expensive is enough to make even experienced drone pilots queasy.
Pros: It's hard to know where to start. Is it the mile-plus range? The 4K video? The slow-motion footage capture? Or is it the feature set DJI added as a bonus, including perks like HDR photos, sphere panorama, active follow, and pre-planned flight patterns? The bottom line: the Mavic Air has so many features that we're in love.
Cons: As the most expensive drone on this list, it may be too much for many to drop on what might be a passing interest. We get that. But anyone who has done their research on drones will recognize the respect that is held for DJI and see the Mavic Air as the drone least likely to restrict their aerial and creative aspirations.
Pros: We're big fans of how neatly the arms of this drone fold into its body for easy transport. The remote is also great. It has a built-in 3.3-inch OLED display that can display speed, distance, altitude, and, crucially, how much flight time is left.
Cons: This drone weighs less than two pounds, but the price tag is much heftier.
Every product on Fatherly is independently selected by our editors, writers, and experts. If you click a link on our site and buy something, we may earn an affiliate commission.
This article was originally published on