The Coolest Quilts and Most Cloud-Like Comforters
Cozy up with these warm, beautiful layers.
by Elizabeth Alterman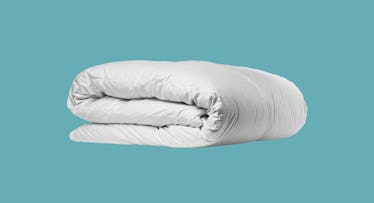 Quilts and comforters should be a staple in your bedding arsenal, along with pillows. That's because parents need two things to function: Coffee and sleep. The latter is tougher to come by, and that's why you need a great comforter. In fact, the right down or down alternative comforter, or maybe an ultra-soft quilt, might just make you surgically attached to your bed.
See more: Best Sheets for Your Bed
If you're on the hunt for the perfect comforter or quilt, you're wondering what sets one apart from another. Down or down alternative are the most popular types of comforters. But once you've narrowed that down, you'll still need to consider weight, construction, size, and your sleep preferences, of course.
"Goose down is very warm, luxurious and soft, but carries a higher price tag," explains Sogole Kane, head of marketing and public relations for high-end bedding purveyor Riley. "If you go for goose down, we recommend checking to see if the product is RDS-certified (responsible down standard), which means that the entire supply chain is strictly governed by standards that ensure humane animal treatment as well as the highest-quality down."
Down alternative is also a great option at a more affordable price point, Kane continued, and these products, often made from microfiber, can be just as soft and warm as their goose down counterparts.
When you're scouting out the best blanket, be sure to read the label to find the percentage of down fill, as the higher that number, the better the quality. The insulation ability of the down is also known as "fill power," which is the amount of space an ounce of down "fills" in cubic inches. The higher the percentage, the greater the insulation you'll enjoy.
The comforter's construction is another important factor. Ring stitching allows down to shift within the blanket, which can lead to all those feathers or fibers bunching up in one area. Channel construction consists of long columns that run the length of the blanket. Again, feathers can migrate, leaving you cold as bare spots form when feathers shift. Baffle box, widely considered the best construction style, ensures that the down stays where it should by trapping it inside individually stitched boxes.
Lastly, you'll need to think about the size of the comforter. While it may seem logical to purchase the one that corresponds to the size of your bed, this is a case where bigger is better.
We rounded up the best comforters on the market across a range of price points that all but guarantee a great night's sleep.
Pros: This is the perfect down alternative comforter for those of us who tend to get hot at night. It has a eucalyptus fabric shell, which is moisture-wicking. Meaning, no more night sweats.
Cons: It can be too flat for some, and too warm for others.
Pros: The quilt is woven from a breathable percale fabric, meaning you can use it year-round. Plus, it's machine washable. It feels as great as it looks.
Cons: These tend to run a bit small, so if you have a queen bed, it makes sense to order the king.
Pros: This standout down comforter is gorgeous and fluffy. The goose down is washed a minimum of 10 times being going into the comforter and the comforter itself is designed with a contained-flow baffle box construction which evenly distributes the down.
Cons: If you're allergic to goose down, or prefer the non-animal route, read on.
Pros: This is the king of down comforters. You can choose your preferred density level, choosing between all-year or seasonal. The comforter is made of premium European white down, it's machine washable, and has a sateen cotton outer shell that feels cool against your skin.
Cons: It will last you years, but it's not cheap.
Pros: With more than 6,000 positive reviews on Amazon, you'll be hard-pressed to find a comforter as beloved and affordable as this one. It's reversible and comes in designs so attractive, you can skip purchasing a duvet cover. The filling on this comforter is microfiber.
Cons: Machine-wash at your own risk.
Pros: At last, an actual down comforter that's cool enough for summer, warm enough for winter, and cozy enough to use all year. It's fluffy, without making you feel like you're being suffocated.
Cons: People complain that the filling can be uneven and can shift during the night.
Pros: Lightweight yet warm and cozy enough to use year-round, the comforter doesn't crinkle as your roll around, which is a relief to sleepers who are sound-sensitive.
Cons: This comforter needs to be dry-cleaned, which can get expensive and you may miss it while it's gone.
Pros: This glorious down comforter has a hypo-allergenic fill is made from premium down goose feathers. And it's ideal for year-round use, meaning you won't freeze or overheat.
Cons: It can be too scratchy for some, and has a smell that some found off-putting.
Pros: This down and down alternative comforter features a handy box stitching design to avoid any shifting of the filling, and it is machine washable. It's soft, it's cozy, and it's great for use all year.
Cons: It's thin and scratchy, according to some naysayers.
Pros: This comforter is made from polyester, features diamond stitching helps keep the fill in place, and is machine washable. It comes in a variety of colors, and the price can't be beat. It's not a luxe down comforter by any means, but will keep you warm.
Cons: You get what you pay for. The comforter tears easily, and the quality can be iffy.
This article was originally published on