The Best Double Strollers for Two (or More) Kids
Yes, they're easy to maneuver. We promise.
by Brendan Charles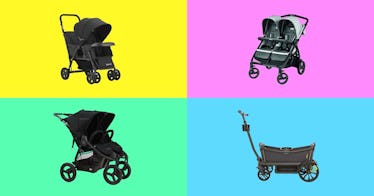 For parents of multiple kids, finding the best double stroller is truly a godsend. You can't beat the convenience of being able to haul both kids (or even three of them) to the park or beach. Double strollers for infants and toddlers come in numerous configurations, but no matter the layout, the best ones come with features like a one-handed fold, front-wheel suspension, extended canopies, and foot and hand brakes. Many double strollers for two kids have optional storage expansion, sun shades, rain covers, and cup holders for morning coffee or your sippy cups.
In side-by-side or double-wide strollers, kids sit next to each other, allowing you to best configure each seat separately for naps and personalized comfort. These are best when kids are roughly the same age. Inline models have one seat located in front of the other, and those are better for kids of different ages and sizes, since one seat is always more spacious than the other.
No matter the format, consider how you'll be using the stroller. If you plan on actually getting a workout, pick one that's durable and easy to push. If you're braving public transportation with a double stroller, choosing one that's lightweight reigns supreme.
The Most Versatile Double Strollers
The Best Tandem Double Strollers
The Best Side by Side Double Strollers
The Best Double Stroller Wagons
The Best Double Jogging Strollers
Every product on Fatherly is independently selected by our editors, writers, and experts. If you click a link on our site and buy something, we may earn an affiliate commission.