The Best Indestructible Dog Toys, According to Pet Experts
These handsome, indestructible toys are beloved by dogs — and actually look great strewn around the house.
by Donna Freydkin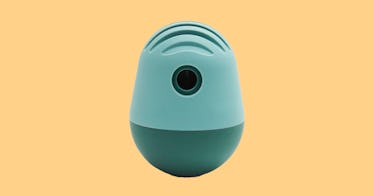 dogshoesboredom, keep them engaged, and even provide comfort when things get stressful.
Not all dog toys are created equal, so keep a few things in mind when choosing one. Per the Humane Society of the United States, get to know your dog and his preferences. If he's an unstoppable chewer, indestructible dog toys are the only way to go. And pick the correct toys for your dog's size; anything too small can be a choking hazard.
If you opt for squeaky toys, buy earplugs (just kidding) and supervise your dog to make sure she doesn't destroy it in seconds and swallow the squeaker. If you buy soft toys, make sure they're machine-washable for reasons that don't need to be stated here. Don't buy any toys that have fillings, such as nutshells or polystyrene beads, because they're not digestible. With chew toys, always supervise your dog when they're going to town so they don't choke on anything.
Rubber toys are great because they're virtually impossible to destroy and they bounce around in weird ways, thus keeping your dog interested. They're also easy to wash. So-called distraction toys, the ones you fill up with treats, keep dogs busy for hours, as do so-called feeder toys, which challenge dogs to find the hidden treats or food.
Every product on is independently selected by our editors, writers, and experts. If you click a link on our site and buy something, we may earn an affiliate commission.