21 Surprisingly Stylish Diaper Bags You'll Want To Bring Everywhere
The modern diaper bag has never been better.
by Dave Baldwin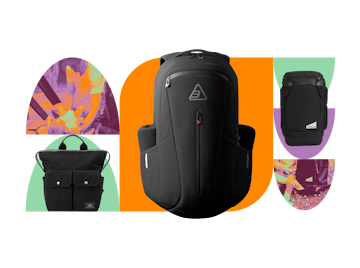 Ariela Basson/Fatherly; Beau Industries, No Reception, Shinola
We may receive a portion of sales if you purchase a product through a link in this article.
If there's one clutch piece of baby gear every dad needs, it's the men's diaper bag. On any given day, you'll tote everything from baby bottles to phone chargers to, yes, diapers, and you'll need something to keep it all together and meticulously organized. But the best diaper bags for men are both functional and stylish, with subtle details like reflective or leather accents that elevate their form without detracting from the function. Avoid those toy dog-like dad diaper bags meant for decoration; you're looking for the diaper bag equivalent of that Arnie handshake from Predator, an inanimate parenting sidekick that exists only to make your life easier when you're out and about with your kid.
A great diaper bag should have a wipe-clean surface because babies are messy creatures and ample pockets for bottles, keys, phones, pacifiers, and snacks. Many have padded laptop sleeves, so you can tote your tech along with you or use the diaper bag as an actual work bag once your kid is potty-trained. And it should, of course, have space for a sizable changing pad.
Because we've all used "questionable" surfaces to change a diaper. It happens to the best of us, whether due to circumstance or because we straight-up forgot the changing pad. Some of our favorite bags below go a step further and have built-in changing stations — because the whole diaper setup is integrated into the bag's design, we've found we're more likely to have it when we need it.
The Best Diaper Backpacks for Dads
The Best Diaper Bag Totes for Dads
The Best Messenger Diaper Bags for Dads
The Best Small Diaper Bags for Dads
Every product on Fatherly is independently selected by our editors, writers, and experts. If you click a link on our site and buy something, we may earn an affiliate commission.