The Best Outdoor Furniture Deals At Wayfair's Huge 24-Hour 'Way Day' Sale
Today only, Wayfair is selling more than 70,000 products for as much as 80-percent off.
by Dave Baldwin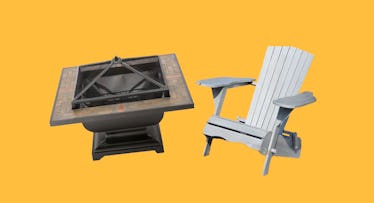 Amazon has Prime Day. Home Depot and Lowes have Spring Black Friday. And now Wayfair, the popular online home retailer, has Way Day. The company rolled out its own annual shopping holiday today and is knocking up to 80-percent off more than 70,000 products on the site. The mega sale began last night at midnight and, in addition to steep discounts and free shipping, includes various flash sales every six hours.
While the sales touch every department ⏤ from mattresses and kitchen essentials to bath towels and furniture for the nursery, there are some especially solid deals on cool patio furniture, grills, and fire pits. As it's finally time to shake off winter and get your backyards in gear for barbecuing and kicking it back, here are three worth checking out.
Laffey Large Soft Weave Polyester Hammock
Only $147 during the flash sale, this 13-foot, all-weather hammock is made of fabric ribbons around a layer of polyester fiberfill batting, can hold up to two adults or multiple kids (400 pounds max), and hangs on either a tree or attached to an optional stand sold separately.
Trent Steel Wood Burning Fire Pit Table
Normally priced at $429, this wood burning fire pit ⏤ perfect for grilling s'mores and cool summer nights ⏤ features a convenient wrap-around slate stone ledge for drinks, snacks, or a plate of Graham crackers. It also comes with a pyramid-shaped safety screen to keep sparks from flying and a guard lift tool to keep from burning your hands.
Boonville Solid Wood Adirondack Chair
Made of solid Eucalyptus wood and available in one of two colors ⏤ gray wash or teak ⏤ these handsome Adirondack chairs from Booneville come in sets of two and are marked down over 60 percent today. Regularly $542, they're running a paltry $205 with free shipping.