Best Toys 'R' Us Deals to Capitalize On Before Your Gift Cards Are Worthless
Toys 'R' Us hasn't said how long its stores will remain open, but best not waste time.
by Dave Baldwin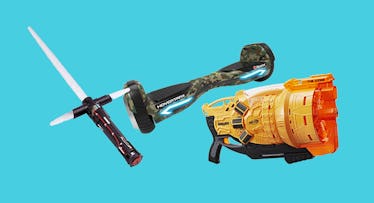 With Toys "R" Us announcing yesterday that it's closing all 800 U.S. stores, it's only a matter of time before the toy retailer's gift cards may be rendered worthless ⏤ even if Senator Chuck Schumer (D-NY) is demanding the company honor all unused cards or trade them for cash. It's the unfortunate nature of bankruptcy ⏤ customers usually rank below creditors. As of now, U.S. customers can still use Toys "R" Us gift cards without issue either in stores or online. Customers in the UK, where stores have already begun liquidation, however, are out of luck.
If you are holding Toys "R" Us or Babies "R" Us gift cards, get ready to have some fun ⏤ you're about to get experience a true game-show shopping spree. The clock is ticking, and you can't keep any of the money. All you can do is run through the aisles (real or virtual) and dump as much stuff as possible into your cart. What could be more fun? And to help you get the most bang for your soon-to-be-expired buck, we rounded up some the coolest toys the store has already marked on sale, either on clearance or as part of the huge Spring Easter event.
Thomas & Friends DC Super Friends Batcave
This Fisher-Price MINIS Bat Cave combines two kid favorites ⏤ Batman and Thomas & Friends ⏤ into one sweet play set. It's targeted to kids 3+ and comes with both a Thomas as Batman and an exclusive Bill as Clayface MINIS engine.
Nerf Doomlands The Judge
Part of Nerf's post-apocalyptic series, the Judge blaster is a manual slide-action shotgun with a massive 30-dart barrel drum that looks like something a character in Halo would shoot. Cooler still, the darts fire in sets of threes. Which means 10 shots and a much higher chance of actually hitting the target, even if you're not using Nerf's more precise AccuStrike darts.
Star Wars: Episode VII The Force Awakens Build Your Own Lightsaber Room Light
The best part about this build-it-yourself Kylo Ren lightsaber with authentic sound effects is that it's more than just a weapon to fight the Jedi. It's also a wall light to help your kid get to the bathroom at night.
Step2 Naturally Playful Woodland Climber
Outdoor climbers and slides aren't cheap, so knocking $50 off this Step2 feels right. It boasts not one, but two rock walls, as well as a slide and dual steering wheels.
Razor Hovertrax 2.0 Self Balancing Electric Scooter
Available in either Camo or Rose Gold, the Hovertrax 2.0 hits cruising speeds of 8mph, can run for up to 60 minutes, and rocks two cool-blue LED light bars on the front. Also, it's marked down to $300.
'Harley Quinn To The Rescue' Lego Set
There a bunch of Lego sets on sale, including Star Wars and BrickHeadz, but this 217-piece Harley Quinn set ⏤ in which she battles the mischievous green Kryptomites at the Capes and Cowls Cafe ⏤ is half off.