Best Countertop Microwaves for Cooks Without Time
From colorful basic models to voice-controlled options, here are the most popular microwaves on the market, to save you time and money.
by Leah Groth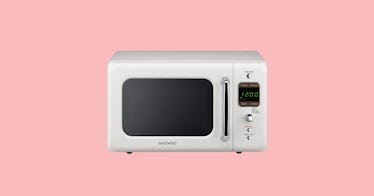 A microwave is a time-saving essential for any kitchen, particularly when that parent is used by parents crunched for time and starved for culinary ideas. They get a bad rap, but the bottom line is that a microwave can save tons of time better spent doing things with your kids or relaxing with your spouse.
Purchasing a microwave isn't a one-size-fits-all kind of situation, and there are a variety of factors to consider. For one, size. Figure out how much counter space you have available as well as how many cubic feet of interior cooking space you are looking for. You want to make sure that there's a nice spot for your new appliance in your kitchen and that it's big enough to fit whatever you'd like to cook so you can get everything ready to eat at once.
In terms of wattage, the higher the number, the faster and more evenly your food will cook. It also typically means a bigger and more expensive unit. Most microwaves fall between 600 and 1200 watts.
Like other cooking appliances, microwaves can be barebones, with simple controls to adjust cooking power and time, but they can also be loaded with features like preset cooking times and the latest technological cooking features, including voice-activated commands. The right microwave for you depends on your needs. Here are the best ones based on our research coupled with a deep dive into customer reviews.
Pros: This commercial-quality microwave might not be fancy, but users rave it is the most dependable on the market.
Cons: You get just the basics with this one, and its low wattage means longer cooking times.
Pros: Large, luxurious, and chock-full of features, Panasonic's progressive microwave is the perfect option for the most tech-savvy of cooks.
Cons: If you aren't all about technology, many of this microwave's features will probably be confusing and go unused.
Pros: A microwave and convection oven combination, you can bake, roast and reheat all of your favorite foods in this multi-use fabulosity.
Cons: A complaint that came up more than once in the reviews is that there is no option to turn the beeper off. That might make it hard to use after the kids have gone to bed.
Pros: This microwave is available in several different sizes and also features a broiler unit on top. Talk about versatility!
Cons: Because of its grilling features, it can get hot on the exterior, so be careful what you sit on top of or next to it.
Pros: This compact and affordable microwave is perfect for your smart home.
Cons: It looks like it belongs in a particularly sad office.
Pros: If you love bright hues in your kitchen, you have found your dream microwave.
Cons: You also have to manually turn the microwave on every time you use it, but reviewers say it is not a huge issue.
Pros: The aesthetics are great — sleek and stylish — more than you can usually ask for from a kitchen workhorse. The included broiler means you can heat up food quickly without making it soggy, a great option for foods like pizza and french fries that can turn mushy in a standard microwave.
Cons: The user manual for this one says it needs its own circuit, which is a lot to ask for when so many less demanding options are available.
Pros: The best part of this microwave might be its interface. There's the smart menu setup, which makes selecting the right settings for your task simple, and the shortcut buttons — cleverly only seen when the door is open — for those times when you want to start cooking quickly.
Cons: This is a lot of money to spend for a microwave that isn't massive and doesn't incorporate other heating elements.
Every product on Fatherly is independently selected by our editors, writers, and experts. If you click a link on our site and buy something, we may earn an affiliate commission.
This article was originally published on