Best Cordless Vacuum Cleaners
You want a handheld vacuum that sucks, and these are our favorites.
by Donna Freydkin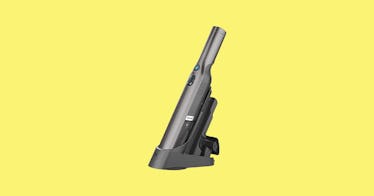 The best cordless vacuum sucks. In the truest sense of the word. Every parent needs a cordless vacuum cleaner so you can use it to clean up spot-messes, including crumbs, cat litter, and all those Goldfish you'll find in every corner of your home.
Of course, vacuuming is one chore most of us would rather skip — especially if it involves lugging an upright behemoth around the house. If that's been your go-to machine for tackling messes and keeping your floors clean, you may also be facing that added frustration of dealing with a less-than-efficient vacuum.
In February, Consumer Reports stated that it can no longer recommend "the majority of upright vacuum cleaners we rate due to reliability issues," noting that "seven of 12 brands of uprights break at such a high rate that they earn unfavorable ratings for predicted reliability." Yikes.
Unfortunately, your house still has floors and those floors still need to be cleaned, as do your couch, car seat, and other fabric surfaces. With that in mind, consumers who are short on time and space are opting for handheld vacuums to tackle cleaning jobs. Before buying your handheld vacuum, you need to look at your specific cleaning needs. A corded vacuum doesn't need to be charged but also has limited mobility. A cordless vacuum is much more flexible but does need to be recharged regularly, so a battery indicator that lets you know when to plug it in is an absolute must.
If you're using a vacuum to suck up crumbs in your car, for example, make sure it's cordless. If it's to scoop up pet hair, get one that's suitable for homes with cats and dogs. If it's for your kitchen, you'll need one that can tackle both spilled milk and cereal. If you're in the market for one you'll have carried up and down stairs, get a lightweight one. Parents whose kids bury Legos and other junk inside couch cushions will probably want one with an attachment hose to get into the nooks and crannies, so check to see what accessories it comes with. And of course, ensure the vacuum is itself easy to empty and clean out, so you don't have a dust explosion that necessitates a second round of cleaning.
If you're shopping for a new vacuum, check out these handheld vacs that are easy to use, reliable, and up for the task of cleaning even the toughest-to-reach spaces.
Best Cordless Vacuum Cleaners
Pros: Like its brothers and sisters, this Dyson handheld vacuum has a V10 motor. Unlike its brethren, it has both a torque drive cleaner head, and a soft roller cleaner head. This means it grabs both big chunks of crud, and still manages to suck up impressive amounts of dust.
Cons: The battery life could be improved.
Pros: One of the standout features of this cordless vacuum is its runtime. Unlike the Dyson, it has a removable 22V lithium-ion battery and gets you up to 40 minutes run-time on one four hour charge.
Cons: It's loud.
Pros: When using most cordless vacuum cleaners, you have to keep pressing the button to keep it working. Not with the Jimmy. Press the trigger and release, and the wireless vacuum cleaner will run continuously. It's a small thing, but something you'll appreciate.
Cons: It works much better on hardwoods than on deep, plush rugs.
Pros: This is an investment piece, and one you won't regret buying. The Dyson handheld vacuum does it all. It has up to an hour's worth of run time, and fully charges in just under four hours. It has a fully-sealed filtration system that traps 99.97 percent of particles, including those as small as 0.3 microns. That's a fancy way of saying it's perfect for pet owners and folks with allergies.
Cons: The price. Plus, it weighs about six pounds, so it's definitely not the lightest vacuum out there. Still, if you have the cash and the upper body strength it's a great option.
Pros: Instead of a switch, this vacuum cleaner has a foot pedal to make turning it on and off easy. It also has battery life light indicators and can handle both carpets and hard floors.
Cons: This thing doesn't come with any kind of hose or handheld attachments, so it's really just a floor vacuum that lasts "up to 30 minutes" (read: not a ton of time) on a single charge.
Pros: The motorized brush tool agitates deep-rooted dander, dirt, and hair, making it easy for the vacuum unit to get it into the dirt cup. There's also triple filtraton to keep your air clean, and upholstery and crevice tools for specific cleaning applications.
Cons: A compact unit means a compact battery, and this one only lasts for 17 minutes at most.
Pros: Thanks to its lithium battery, the Holife hand vacuum runs continuously for 30 minutes after charging for as few as four hours. You can clean a home of just over 1,600 square feet on a single charge. Customers also love that it's whisper-quiet.
Cons: Some reviewers were disappointed in the suction, particularly when it comes to picking up pet hair and fur. There are better options for cleaning up after your furry friends.
Pros: With its trademark cyclonic action, the vacuum spins dust and debris away from the filter, ensuring that its suction remains strong. It's lightweight, clocking in at under three pounds, and charges in four hours.
Cons: Several owners said their vacuum's batteries didn't deliver as promised. When they tried to get the units replaced, many encountered the same issue all over again. Others wish this vac could be wall-mounted rather than rest on the countertop.
Pros: The vacuum is slim, yet powerful. An LED light indicates not only charging status but also remaining battery life as well. The docking station offers space to store the accompanying tools, which include a duster crevice tool and a multi-surface pet tool, to suck up dog and cat fur.
Cons: Some reviewers said their vac wouldn't turn on even after hours of charging. Others felt the product was overpriced.
Pros: There are separate tanks for dirty and clean solution, along with a trigger that lets you spray extra cleaner on particularly tricky stains and spills. It vacuums and washes floors at the same time, a much faster alternative to sweeping and then mopping.
Cons: This is really only for hard floors and area rugs; you'll need a separate device for carpets and high-pile rugs.
Every product on Fatherly is independently selected by our editors, writers, and experts. If you click a link on our site and buy something, we may earn an affiliate commission.
This article was originally published on