The Best Cooling Pillows For Hot Sleepers, According to a Sleep Doctor
Get a good night's rest without turning the bedroom into a meat locker.
by Hudson Lindenberger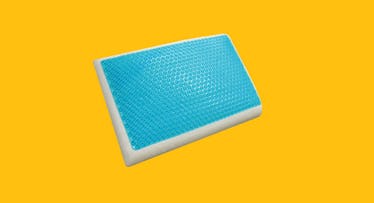 Bedtime is supposed to be about resting and recharging, not tossing and turning. But if you happen to be a hot sleeper, chances are that's exactly what's happening. Instead of waking up ready to face the day's challenges, you're tired, irritable, and worn down. "A good night's sleep is one of the most important things your body needs," says Dr. Chris Winter, neurologist and author of The Sleep Solution. "It does not matter how much you are exercising and eating correctly if are not taking care of your sleep."
According to Dr. Winter, people who sleep poorly (which is a large portion of us) tend to focus on the bedroom's light and noise levels while ignoring the simplest fix ⏤ ensuring the temperature is ideal for snoozing. And while there's no perfect temp for everybody, experts agree that somewhere between 60-67 degrees Fahrenheit is optimal for sleeping. It just takes some experimenting to discover what works best for you.
One way to lower your core temperature without running the A/C on high all night is to purchase a cooling pillow. If you tend to wake up sweating, or find yourself flipping your pillow to the cooler underside a lot, then it could be your answer. "Look for one that can lower the temperature effectively while also supporting your head and neck comfortably," says Dr. Winter. "And pay particular attention to what they are filled with, since some of them have dense foam that can be very hard to get comfortable with." Bamboo pillows filled with shredded latex filling or gel pillows are the ones that he most recommends, including these six for different kinds of sleepers.
Best for Night Sweats:
Classic Brands Reversible Cool Gel and Memory Foam Pillow
This dual-sided pillow allows you to easily lower your body temp at bedtime by laying your head on the cooling gel side. And then when you're ready for a restful night of sleep, simply flip it over to the memory foam. It's perfect for people who wake in night sweats or women in menopause. It also provides the most neck support of any pillow on this list.
Best for Side and Stomach Sleepers:
Original Bamboo Cooling Pillow
The beauty of this Original Bamboo cooling pillow is that it's customizable. There is a small side pocket that allows you to adjust the filling inside until you achieve the perfect amount. The pillowcase is hypoallergenic, and the shredded memory foam quickly pulls heat away from your head and neck.
Best for Necks Needing Extra Support:
Coop Home Goods Eden Shredded Memory Foam Pillow
The lining of this pillow is a mixture of shredded memory foam and cooling gel, and its gusseted design helps prevent pinching. Instead, you get an even platform upon which to rest your weary head and neck.
Best for Back Sleepers:
Bed Gear Lightning 2.0 Performance Pillow
This is the pillow that Dr. Winter sleeps on every night. It's wrapped in a climate-control fabric lining that pulls the heat away the moment you lay your head down, and it utilizes a foam blend to match the contours of your body. To top it off, ventilated panels encircle the entire pillow to ensure an inflow of cool air all night long.
Best Cooling Pillowcase:
Dri-Tec Performance Pillowcase
Sometimes all you need is a pillowcase to help you keep your cool. Made from Dri-Tec fabric, these pillowcases quickly pull away excess heat and moisture while "Air-X mesh sidewalls help provide ambient air flow." Best of all, you can keep using your favorite pillow.
Best Travel Pillow:
Bed Gear Travel Kit
This travel set from Bed Gear pairs a packable pillow made from Dri-Tec fabric for coolness with an Air-X patch to keep fresh air flowing. And it comes with a blanket and travel case, so it's easy to break out on long flights.
Every product on Fatherly is independently selected by our editors, writers, and experts. If you click a link on our site and buy something, we may earn an affiliate commission.
This article was originally published on