5 Commuter Cars That Are Great for Families
Who says a commuter car can't be practical, efficient, and fun as hell?
by Michael Frank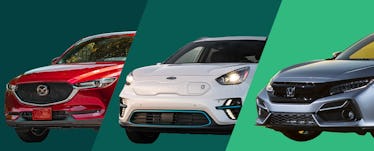 Not every family car is for carting the whole family around. Parents often need another vehicle to get them to work, to bring one kid to a doctor's appointment or an after-school activity, to run errands easily. That's where the second car comes in. It's a vehicle that is safe, reliable, and somewhat spacious, but that feels a bit more fun to drive when take a solo-trip to the grocery store. The five cars below fit this bill. Some are light and fast, others are simply sturdy and efficient as hell. All are safe, fun, and feature-packed.
2021 Honda Civic Four-Door
Five-door hatchbacks are supposedly unloved by Americans. But we really do buy a lot of them — we just call them crossovers. So think of this little Honda as a lower-riding crossover and you'll warm to it. Then blast it around a bend, let its 180-horsepower turbocharged four-cylinder engine rev, snap through its six-speed manual gearbox that's as precise as anything Porsche sells, and you'll forget you ever had concerns. Suddenly you remember what driving a real car, and not an SUV, feels like. While you're at it, eyeball that highway fuel economy. Just because the Civic is sporty doesn't make it mainline gas.
Space-wise, Honda nails it. Cramming full-size adults in the second-row quarters would be a little cruel since they'll be banging their shins into the front seats. But as long as your brood is young, they'll fit. If you're concerned about driver comfort, we stuck both a 6-foot-6 and a 5-foot-4 driver behind the wheel and they both fit comfortably. Honda is the rare care brand that knows that people of all shapes and sizes want a vehicle for the masses, and they clearly designed the Civic around real-size humans, not just a normative 6-footer and nobody else (too frequently, the problem with lots of other brands).
MSRP: $21,750Our Pick: $28,950 Sport TouringEPA: 29/37 MPGCapacity: Five passengersMax Cargo Space: 46 cubic feet
Another deviously simple problem they nailed is the cargo cover. You know what we're talking about, right? That fore-aft retracting window-blind-like thing that's supposed to hide your valuables in the back of your SUV or hatchback, but the second you need to carry something tall, it's just in the way? Right. Honda fixed this headache by turning the mechanism sideways, so it unfurls from right to left, rather than from front to back. This means that it's never in the way for tall objects. But when you do want the security, it hides your goodies.
That's a small, smart touch. Another? All outboard seats get extra-large on-door cup holders that easily hold oversize water bottles, snacks, and a phone. There are two USBs and one 12-volt outlet up front but none in the backseat. As far as traditional storage space is concerned, the Civic does all right. When you've got to dash to Costco and your other car is on kid-carting duty, the rear seats split 60/40 for extra room.
We selected the Sport Touring model because it packs most of our key safety features, including adaptive cruise control, lane-keeping, and forward-collision warning/autonomous emergency braking if you don't hit the brakes in time. But in any shape, the Civic proves that practicality doesn't have to be boring.
2021 Mazda CX-5
A sad fact is that a lot of carmakers force you to pay significantly more for safety tech. You should, of course, shell out for it, because it really is lifesaving, though it also bites most of us hard in the wallet. But the CX-5 Touring edition, which only costs $1,700 more than the standard edition, includes a passel of superb safety advancements. That includes self-leveling LED headlamps (so they aim where you're going, even in corners) and advanced cruise control (come to a complete stop, then just tap the gas to resume travel). There's also automatic emergency braking, automatic lane-keeping, and automatic headlamps that brighten to high beams when you drive dark, isolated roads, then immediately dim so you won't blind other drivers.
MSRP: $25,190Our Pick: $26,830 Touring EditionEPA: 25/31 MPGCapacity: Five passengerMax Cargo Space: 59.6 cubic feet
Being safer for less dough is a deal we can get behind. But Mazda's all about making driving fun. And the CX-5's steering feels caffeinated; the 2.5-liter engine, mated to a quick-shifting six-speed automatic, pops off snappy acceleration when you need it to pass, but then mellows for long-legged interstate hauls. Bomb a corner aggressively in the CX-5 and Mazda's engineers give you a tiny, invisible assist. An innovation called G-Vectoring Control rolls on just a hint of throttle for the latter half of corners, providing a bit more sizzle and roller-coaster fun. You feel like the car snaps out of corners more crisply — because it does. The best part: A more timid driver will never have to worry, since G-Vectoring makes the scene when you're pushing hard.
Mazda thought through utility, too, with two-tone leatherette seats that not only look sharp but are also easier to clean. Then there are the 40/20/40 split rear seats that let you, say, pass through a couple of fishing rods from the hatch in between two kids in booster seats when you're out for a play date at the lake. Note, too, that you've checked into quarters that are more Hyatt than Motel 6, all chrome-accented, knurled buttoned, and cross-stitched. Every touch makes driving a bit more fun.
Tesla Model 3
Tesla builds spaceships. This one just happens to fly on land. And it will cruise for 250 miles on electric power even in the base model we're suggesting. (If you really must have the $48,990 Long Range version, that goes up to 322 miles.)
But, of course, just being an EV is no longer enough. What Tesla proved is that EVs could be sexy and very, very different. So let's not forget that on the outside this is still the most head-turning car in its class, a sleek knife cutting through the hum-drum norm of its gas-hogging brethren. Yes, that analogy is apt, because Tesla sold electrification through peerless handling and screaming acceleration, and even this "base" Model 3 will jet to 60mph in just above five seconds. That's the kind of wow performance, mind you, that forced even Porsche to begin building its own electric cars. There's also Tesla's famous Autopilot, which is very, very advanced automatic cruise control. (Reminder: Autopilot is not foolproof; your Model 3 cannot drive autonomously.)
MSRP: $39,190Our Pick: $39,190 Standard Range PlusEPA: 250 miles rangeCapacity: Five passengersMax Cargo Space: 15 cubic feet* (Tesla doesn't list data with rear seats folded)
The same sensors that enable Autopilot caution the driver to hazards around them. You'll be warned off from merging into a passing car on the highway, the Model 3 will help you avoid bashing into a pedestrian or cyclist, it will automatically stop in traffic if you don't brake in time, and there's even a built-in graphic on the screen that live-animates the environment around the car. Eyeball that screen first, to see if there's a car lurking in your blind spot, or to size up a coming railroad crossing the GPS has flagged a quarter-mile down the road.
Life inside the car is, well, weird. At least at first. Sit behind the wheel and you see nothing. All instrumentation is banked in a massive, 15-inch touchscreen, from the speedometer to all functions including selecting everything from a Spotify playlist to preferred cabin temperature. Sure, window controls nest on the armrests and the electrically adjustable driver's seat switchgear is conveniently beside your left hip, but otherwise, it's like living on some sci-fi movie set, all clean, seamless surfaces. Luckily, your kids can stare at their own screens (their phones) in the second row, thanks to twin USBs that mirror the pair up front. Since Tesla knows you want to carry stuff, there are oversized on-door bottle holders at every outboard seating position.
Don't forget one other appealing attribute: Tesla's amazing infrastructure. The company's vast Supercharger network not only lets you charge up faster than compared to other EVs, but also to charge on non-Tesla networks such as ChargePoint. This facet has been one of the key selling points with Tesla, since lots of new EV drivers fear being stuck curbside with a dead battery. Despite its sci-fi appeal, there's one modern piece of teach missing from all Teslas: Apple CarPlay or Android Auto. Elon Musk might create one hell of a vehicle, but he clearly doesn't play well with other tech overlords.
2021 Volkswagen Golf GTI
If there's a car on this list that matches the Honda Civic hatchback for fun, it's the GTI. The car has some of the best outward visibility of any vehicle you can buy today, and that's partly why VW hasn't messed with its stalwart Golf formula over the past four decades. Why does vision matter? Because you cannot drive confidently, making swift decisions, if you're flying partly blind. And, yep, you buy a GTI to fly, and this car is a blast doing just that. Its 228hp turbocharged four punches out torque; that manual gearbox ping-pongs happily through its six gears.
Visibility is certainly a plus. But note, too, the stylish and somewhat Audi-esque cockpit, with its premium-feeling cloth seats in traditional Clark Plaid (GTI's have offered plaid seats for 40 years) that also get standard seat heaters. It's a pragmatic car, too, with very roomy front seats that are height adjustable, for taller or shorter drivers. Passengers will find the rear seats comfy, too; while there's not quite enough knee room for six footers, there's more headroom back there than in that Honda Civic. The rear seats do split 60/40, perfect for runs to Home Depot. A small touch that we love, and wish was more common. The very straightforward controls for audio and climate, which means you're far less distracted by hunting and pecking.
MSRP: $29,984Our Pick: The $29,984 GTI SMPG: 24/32Capacity: Five passengersMax Cargo Space: 51.2 cubic feet
We'd urge you to go for the S trim package here, as it lumps together such great features as automatic emergency braking, pedestrian detection and assistance, blind-spot warning, and rear cross-traffic warning/braking. The last feature is especially great, as it helps to ensure you don't get pegged by another car when backing out of parking space. Unfortunately, you have to step way up ($8,000 more!) to the SEL to get the one additional system we'd want, which is advanced cruise control. Is it worth it? That's probably up to you, and how much highway driving you do. But in terms of price, performance, and overall features, the GTI S is a great buy.
2021 Kia Niro EV
Take the Niro for a drive. You'll sense something so subtle and, honestly, confusing, that at first you'll struggle to put your finger on it. Eventually it'll dawn on you: This car is quiet. Really quiet. Like, Bentley quiet. Sure, all EVs are less noisy than their gas-powered brethren, but this is a library kind of hush that, nope, not even the Tesla Model 3 matches. This means that not only can you have conversations with your children in a level voice but also your ears will hear the traffic around you better. Meaning? You'll drive more safely.
No, the Niro doesn't have the space-age cockpit of the Tesla. Instead, the Niro cabin is, well, fine. It's quite conventional, with wipeable, supportive faux leather seats, standard radio and tuning knobs, and hard plastic buttons to adjust the climate functions, just like that other car you drive. It comes standard with both of those front seats getting electric power adjustments as well, and they're comfortable, too, though we should note that like other winners in our Second Car category, that second row isn't all that roomy for adults. Fold down those seats, however, and this Kia seems to elongate, with a cargo capacity nearly matching many five passenger crossovers.
MSRP: $39,090Our Pick: EX model with $1,100 heat pump optionMPG: 239 miles rangeCapacity: Five passengersMax Cargo Space: 53 cubic feet
Oh, and did we mention that it'll scoot to 60 miles an hour in 6.2 seconds? That's faster than the Golf GTI. Okay, let's calm down, because the Niro's not a sports car, and it doesn't corner like one. Still, it is a fun machine, one that, thanks to all its batteries nesting under the car's floor, always feels well planted and stable. There's a kind of guilt-free pleasure in that whoosh of acceleration without any taint of spewing fossil fuel.
Another bonus is that the seating position is a hair higher than most sedans, not quite crossover high, but taller, which makes for less knee-bending to retrieve a child from her car seat, and a longer down-the-road perspective when you're at the steering wheel. We also like that there's a very large, central storage bin between the two front seats, ideal for parking several cell phones or even a small purse, all concealable thanks to a retractable cover. The on-door bins and bottle holders are massive, too. Space-age be damned, some of us carry a lot of stuff so it's nice to have that room.
While the Niro doesn't have the sexiness or pure specs of the Tesla, it does have one hell of a large advantage: Kia's 10-year, 100,000-mile warranty, which blows away Tesla's not-so-great record. Safety-wise, it isn't too shabby either. The Niro ticks all the features we'd suggest and, yes, that includes smart cruise control and also not only lane keeping, but lane following, which works by reading the lines on the road and actually re-centering the car. Again, these nannies aren't perfect, but they really do enable safer driving, particularly if you're on a long, tedious drive you do daily, like that thing we used to call commuting.
An important P.S. is that if you live somewhere that gets cold in winter, consider the $1,100 heat pump option. This scavenges warmth from heat-generating machinery throughout the car (batteries, motors, etc.) and sends it back to the cabin, rather than draining the batteries themselves to generate warmth, all of which increases the car's per-charge range.
This article was originally published on