Best Colored Pencils for Kids: Crayola, Prismacolor, Faber-Castell, and More
Wooden, mechanical, watercolor, and smelly (seriously) options for every kind of young artist.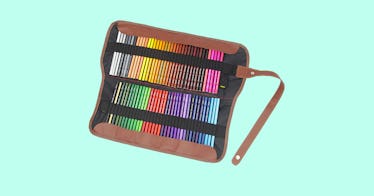 Crayons are a great first drawing tool. They're easy for small hands to grasp, don't require much pressure to use, and pose a minimal poking risk. There's a reason that every family restaurant worth its salt keeps some stashed in the hostess stand. However, as kids develop more dexterity and artistic ambition, crayons alone are inadequate, and the time comes to add colored pencils to their artistic repertoire. These are our picks for the best colored pencils for kids, tools for everyone from preschoolers still working on their stick figures to older kids who dream of attending RISD or Pratt.
Crayola Write Start, 8-Count
With a whopping 5.3 mm-thick lead, these are the most crayon-esque colored pencils on this list, and a great candidate for the first colored pencils you should buy for your kids. The girth of their lead means they can't get too pointy, and the wide barrel makes them easier for little hands to grasp. The little drawings on the side of each pencil? Those are just for fun.
Crayola Colored Pencils, 36-Count
The classic green and yellow box holds the same durable pencils you remember from elementary school art class. They come pre-sharpened and dirt cheap — less than $4.50 for 36 — so if your kid has a tendency to misplace things these are also a great choice.
Everyday Essentials Premium Colored Pencils, 72-Count
These 72 pencils cover 48 different colors, number coded individually so kids don't, for instance, confuse slate and dark grey. The included canvas bag has two rows of individual slots for each pencil and can be folded and then rolled to about the size of a dopp kit or simply rolled for a longer, slimmer profile.
ALEX Toys Artist Studio Metallic Pencils, 12-Count
Buy kids more and more standard colored pencils and you quickly run into the law of diminishing returns. A 96-pack really isn't that much more fun than a 72-pack. What is more fun? These dozen metallic pencils, which add a bit of flash to your kids' drawings and look super cool on black paper, an effect you just can't pull off with traditional pencils.
Crayola Twistables Silly Scents, 12-Count
Instead of sharpening these, kids can just twist the end of the plastic casing to push out more lead. The sweet-smelling scents range from pretty typical (orange, blueberry, lemon) and totally out there (cotton candy, pineapple, beach).
Pilot Color Eno 0.7 mm Automatic Mechanical Pencil, 8-Count
Advanced pencillers might want a range of different options. This line, popular in Japan, offers a point that is much, much finer than regular colored pencils. The best part, though, is that they're erasable, making it easy to clean up any errant marks.
Derwent WaterColour Pencils, 12-Count
At first glance, these pencils, with their 3.4 mm lead and hexagonal barrel, are pretty standard. And you can use these like any other colored pencils, but that's not why you buy them. You buy them because the lead is water-soluble, letting you create a watercolor-like effect by wetting the tip or drawing on dampened paper. Kids can even use a little bit of water after the fact to blend and smear their drawings, creating muted washes that you just can't get with traditional pencils.
Staedtler Ergosoft Colored Pencils, 24-Count
These triangular pencils come in the patented easel case Staedtler is known for. The case protects them in transit and presents them to the artist nicely once it's time to get down to business. As for the pencils themselves, they have a triangular shape that makes them pleasant to hold and an inner core that prevents lead breakage, making this set more durable than others.
Prismacolor Premier Soft Core, 48-Count
Next to Crayola, Prismacolor is probably the best known brand of colored pencil out there. Their soft cores make it very easy to blend colors together for a more nuanced effect. There's even a non-pigmented, wax-based pencil that is perfect for both blending colors together and softening the edges of colored pencil artwork. This set comes in a tin box and with a pencil sharpener with two blades, one each for sharpening to a wide and thin point. The bottom line: these pencils offer a lot of nuance and control, and are great for kids serious about their art.
Faber-Castell Polychromos, 60-Count
Unlike the other pencils on this list, they are oil-based, not wax-based. This means that your kids' artwork won't get that film, known as a bloom, that wax colored pencil drawings develop. The 3.8 mm leads are also water-resistant, break-resistant, fade-resistant, and smudge-proof. These are too much pencil for everyday drawings and coloring book pages, but if your kid is serious about her art these German-made pencils will be much appreciated.
This article was originally published on