The Best Coffee Makers For Barista-Worthy Brews
A great coffee machine is a parent's best friend.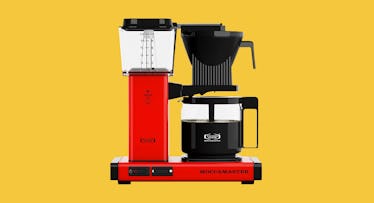 If you have kids, your coffee maker is your best buddy. The coffee machine, we bet, holds pride of place in your kitchen.
If you drank coffee before you had kids, odds are you guzzle the stuff now. That's because parents often exist in a state of perpetual fatigue. Whether it's middle-of-the-night feedings, hectic morning routines, or staying up late with a sick kid, sleep is a precious resource. And while caffeine is no replacement for quality shuteye, a cup of coffee (or three) is an absolute necessity for the bleary-eyed parent.
That means a reliable coffeemaker, something that makes a quality cup of joe without the labor of weighing and hand-grinding beans and delicately pouring hot water over the grounds like your local barista does. He gets paid to do that; you don't. You need a coffeemaker that sits on your counter without taking up a ton of space and, once loaded with coffee and water, makes enough to get you through the day.
"When you're brewing at home, make sure you grind your beans fresh. It's important to measure the ratio of coffee to water. Make sure you're using water that tastes good. If your water has a strong taste, your coffee is going to taste funky," advises Jonathan Rubinstein, owner and founder of Joe's Coffee.
We looked through the options, from single-cup makers to those that can spit out nearly a gallon, from a bunch of different manufacturers. You can pay hundreds for a coffee maker, but we found a lot of solid options with double-digit prices. No matter how much coffee you drink or how you like it, there's a coffeemaker on our list to give you the jolt you want.
Best Coffee Machines
Pros: This Ninja coffee maker also has a perma-filter. And in this case, we're into the maker's classic- and rich-strength settings that make hot, flavorful coffee that's never bitter but always just as strong as you need it to be. You can, of course, program it to brew on schedule so you have fresh coffee when you wake up.
Cons: Our big peeve with this coffee maker is that it doesn't have an indicator light to let you know when it needs cleaning.
Pros: You can either use the grinder for ultra-fresh coffee, or if you have the pre-ground kind, simply disable the grinder. It's the best of both worlds.
Cons: People complain that it leaks, and it tends to brew weak coffee.
Pros: First off, this appliance sure is pretty. It's also pretty awesome. If you love hot coffee, this one's for you. The coffee is more flavorful because cycle dispenses a small amount of hot water to soak the coffee grounds, and then, it brews a full pot.
Cons: Some users have had issues with leaks.
Pros: This coffee is idiot-proof and brews perfect single cups of coffee, either plain or fancy. It works with any K-Cup pod.
Cons: You need to use the pods, which are pricey and not exactly eco-friendly.
Pros: This coffee maker is easy to use, easy to program, and brews up a solid cup of coffee. It has a pause option, so you can grab a cup while it's still brewing without causing an epic mess.
Cons: It doesn't grind your coffee, so it won't be as fresh because you have to use the pre-ground kind.
Pros: You don't need boiling water to make great coffee. In fact, you need hot water. Unfortunately, the majority of coffee makers don't get it hot enough. This one pulses water at 196-205 degrees Fahrenheit, makes for flawless java. As for the hotplate, it keeps your Joe hot without ever burning it, thereby never letting it taste bitter.
Cons: The price. But fans swear by this brand and say to just suck it up.
Pros: This thing is dead simple to use. It has one control, a switch, that starts the brewing process that stops automatically. You can tell when it's done when the orange light, the only light on the machine, turns off. The permanent filter brew basket is easily removable and dishwasher safe.
Cons: Its simplicity also means that you can't start brewing automatically or adjust the brew strength. It also only makes a cup at a time, so it's not great for much beyond a grab and go situation. If your wife also wants a cup, you're probably better off getting something with more capacity.
Pros: This baby brews up to 10 cups of hot coffee, or enough concentrated brew for up to five cups of iced coffee. It also has a 24-hour programmable timer to make sure your drink is hot and ready in the morning.
Cons: The carafe is fragile and can crack.
Pros: Not only does this cold brew coffee maker look cool, but it makes damn fine cold coffee. It has its own steel tap to dispense your cold brew directly from your refrigerator into your mug. And it makes up to 14 servings.
Cons: It has a tendency to leak.
Pros: Its flip-top lid, easy to load filter basket, and rear water chamber easy to operate. It will stop brewing automatically on those occasions when you pull out the carafe, which is great for those mornings when you just really can't wait for the carafe to fill entirely.
Cons: There aren't any options for customizing brew strength or scheduling brewing. It also uses disposable coffee filters that you don't have to clean (good) but do need to buy on a regular basis (bad)
Pros: The simple control panel makes it easy to set the time and schedule, pick one of a few brew strength options, and decide how long you want to keep your already-brewed coffee warm.
Cons: You can keep coffee hot for four hours, but it won't exactly taste fresh and piping hot. There's also no ability to bring a pot around and top everyone off, diner waitress style, so expect to make a few trips back and forth to the coffee maker if you have multiple people drinking coffee.
Pros: You can choose between brewing a full, 12-cup carafe or 1-4 cups of coffee in those rare cases when you may not need a full pot. A charcoal filter purifies the water that goes into your brew, and there's a cleaning feature that you can customize for different hardness levels. The carafe itself has a lid that lets in minimal air, keeping your coffee fresher for longer.
Cons: The clock looks kind of cheap and detracts from the handsome design of the rest of the machine. And even though there's a nice set of tweaks you can make, the coffee maker forgets them if it gets unplugged or there's a power outage, and it can be a bit tedious to reset everything.
Pros: This model from Ninja comes loaded with nifty features, first and foremost its cold brewing capability. It also has separate baskets for coffee and tea, a milk frother, and the ability to brew six different sizes and five different styles.
Cons: There are two carafes available, glass and thermal. The latter is more durable, and it retains more heat, but it's also an extra $60.
Pros: The carafe has a proprietary lid and spout design that Bunn claims makes it easier to pour without dribbling. There's also a built-in warmer that will keep your pot hot once it's done brewing.
Cons: There's no clock or control panel, so look elsewhere if you want your coffee to brew in a certain way on a certain schedule. It's also fast because it keeps water hot all the time, which might use a little more electricity than you're anticipating. Flip the "vacation mode" switch to turn it off, but it (somewhat ironically) will take a decent amount of time, about 15 minutes, to heat up again.
Every product on Fatherly is independently selected by our editors, writers, and experts. If you click a link on our site and buy something, we may earn an affiliate commission.
This article was originally published on