6 Chrome Plugins That Can Save You Hundreds of Dollars Online
They will completely change your online shopping game.
by Jon Gugala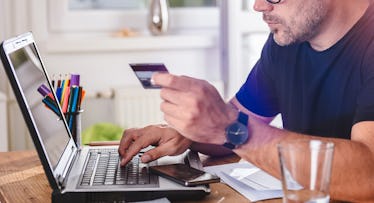 Whether you're online shopping for a small necessity or a big splurge, there's always the lingering feeling that, no matter how much you researched or how many deal codes you found, maybe, just maybe, you're not getting the best price around. Well, you might be right. With the vast expanse of the internet comes myriad shopping options, and with it, myriad prices. Even Amazon's thousands of sellers will offer dramatically different prices on the same exact product, which can vary multiple times a day.
So how do you find the best deal without living online? Well, for Google Chrome users it's through the browser's plugin options. There are a number of excellent, deal-sniffing, money-saving Chrome plugins that allow you to track prices, apply coupon codes, find the cheapest option, and get cash back. The best part? Well, besides the fact that the plugins are free it's that, once installed, these benefits are nearly automatic. We sifted through the Chrome Web Store to find our favorite in each of the above facets. All you have to do is pick a few and start to save.
Best All-Around Chrome Plugin For Getting the Best Price: Honey
Honey wins the popular vote by a landslide, amassing almost 10 million users, a substantial number of whom can't imagine shopping without it. It's easy to see why. Its tech surfs over 20,000 sites to find and auto-apply promo codes upon checkout. Another helpful feature: real-time price info for a customizable list of products, as well as low-price alerts, which gives you confidence to buy at rock bottom. Finally, a points reward system amassed every time you shop with the service can be used to purchase real gift cards from a host of online retailers. GET NOW
Best Chrome Plugin For Finding the Lowest Price: InvisibleHand
Sure, its name is reminiscent of a Genesis album title, but we loved the less intrusive safety net of InvisibleHand. Rather than directing you to the lowest price directly, it provides a reference for the price of something you're considering from a specific site. If there's a cheaper price, it's found it, and if not, you've got peace of mind knowing you've stumbled onto a killer deal. We also liked its rental car, hotel, and airfare search options—something few other plugins include. GET NOW
Best Chrome Plugin For Staying on Top of Deals: Keepa
For those who love the metrics, Keepa drills down deep into Amazon price histories, offering rich graphs that display price fluctuations over time for over 450 million products. You can also import Wish Lists, include international sellers (useful for collectors), and sign up for alerts of the best deals of the day. If you stay mainly in your Amazon Prime lane, this is your plugin. GET NOW
Best Chrome Plugin For Finding the Best Deal: Piggy
Piggy is a set-it-and-forget-it plugin for those who want to max out coupon savings. Browsing and even shopping are unchanged—until you get to checkout. While there, Piggy springs into action, trying a myriad of discount codes tailored to the site until it finds the optimal savings (which, by user feedback, can be significant). As an add-on, the service has an optional cash-back option, which users are cut physical checks four times a year as an added incentive. GET NOW
Best Chrome Plugin For Getting Cash Back: Ebates
If cash-back is your thing, then Ebates is your add-on to Chrome. This service searches cash-back options for an item you're interested in while filtering out the rest. It also will alert you upon checkout for a site's cash-back incentives if you weren't aware of it already. There are two ways to save money online: searching for the lowest price and through Ebates' rebates. GET NOW
Best Chrome Plugin For Giving Back: Giving Assistant Button
While not directly a cash-saving plugin, Giving Assistant Button is an easy way to donate to charities of your choice in conjunction with your savings via other options above. Find a killer cash-back deal? Through Giving Assistant, you can donate from one to 100 percent of that rebate to one of 1.6 million charities. It's an easy piggyback to put a portion of your savings toward causes you believe in. GET NOW