The Best Christmas Light Projectors for the Holidays
Maximum holiday cheer with minimum effort.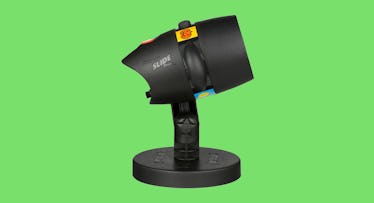 Decorating the outside of your house with lights is a Holiday tradition on par with hanging stockings, trimming the tree, and cursing the troves of tourists who clog your city's transportation systems. This year, might we suggest skipping the hanging lights and instead purchasing a Christmas light projector. These affordable systems stake into the ground and bathe the exterior of your home in yuletide luminescence via lasers or LESD. Not only do these systems look great and allow you to swap scenes with very little effort (some simply use slides), but you also you are far less likely to stub your hand with a hammer, freeze your fingers off, or be scared to look at your electric bill (the systems consume far less energy than strands of bulbs). Oh, and they also take up way less space so you won't mutter under your breath like some lunatic when you're fetching them from the crawl space. In short, they're great. If you're ready to ditch the string lights for good, here are six Christmas Light projectors worth checking out.
Star Shower Motion Laser Light Projector
This As Seen on TV model has most of the features you'll want in a projector. It casts red and green (or just green) lasers, and can be set to motion or still mode depending on your preferences. It comes with an indoor base and an outdoor stake, so you can even use it indoors if you're having a headier holiday shindig.
Star Shower Slide Show LED Projector
Instead of lasers, this projector shines an LED lamp onto the side of your house, projecting moving images that change depending on which slide you've put in. Easter, Halloween, Birthdays, and the Fourth of July are all represented, but it's late November, which means you'll likely use the tree, ornament, reindeer, bell, snowflake, and Santa slides first.
LedMall Firefly
This RGB laser projector comes with a remote control that lets you easily switch between holiday-themed projections and an abstract light show. You can set a timer to turn the show off after two, four, six, or eight or 24-hour durations so you won't have to worry about flipping it on and off. It's waterproof, and it comes with a 25-foot power cord as well as a lock that'll keep it safe from any jealous neighbors.
Zinuo 3D Snowfall Light
This projector uses three LED bulbs to create a snowfall effect on the side of your house. Its remote lets you set timers, adjust the brightness and flash, and even change the speed of the flake-fall for maximum festiveness. It comes with a 16-foot power cord and can project onto an area of up to 600 square yards.
Philips Snowflake Projector
If you want giant, spinning snowflakes cascading down the side of your house, this is the projector for you. It projects from up to 20 feet away, and can also be used indoors if you want to have a white Christmas in your living room.
AtmosFX Night Before Christmas Digital Decoration
If you're really committed to an elaborate holiday light show, check out this DVD-based decoration from AtmosFX. You can play it on your TV inside, but its coolest usage is as a video projected onto the curtains closed behind your windows. It'll create the illusion of Santa walking around your house, in a way that cheesy in the best possible way. If you already have a projector, this is one of the coolest things you can do with it.
This article was originally published on