The Best Kitchen Knives: 5 Excellent Blades Under $200
These exceptional blades that will help you carve, chop, slice, and chiffonade for years.
by Ian Centrone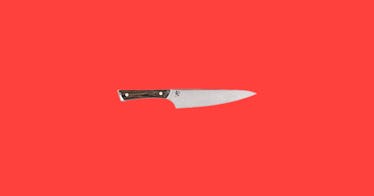 As famed Japanese Iron Chef Masaharu Morimoto once said, "a kitchen without a knife is not a kitchen." He, of course, was not wrong. A good knife is the backbone of any good meal. Particularly important: a strong, durable chef's knife, which helps with everything from dicing and scoring to smashing garlic and slicing pretty much anything. Every cook needs a chef's knife; but a good chef's knife doesn't need to be a hand-forged masterpiece that costs hundreds or thousands of dollars. In fact, there are many good knives available that will not only get the job done, but can also stand the test of time. So whether you're an aspiring Bobby Flay, or more of a home cook amateur looking to step up your kitchen game, these kitchen knives will help you out.
The Best Kitchen Knives: 5 Blades to Consider
Every product on Fatherly is independently selected by our editors, writers, and experts. If you click a link on our site and buy something, we may earn an affiliate commission.
This article was originally published on