The Best Chatbots For Parenting Tasks Like Cooking, Shopping, And Dad Jokes
These are things you'd never ask Jeeves to do.
by Alison Zeidman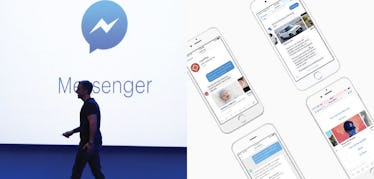 The future may have looked awesome on The Jetsons, but think about it — did you really want a saucy robot maid taking care of your kids, cooking your food, and rifling through your underwear drawer? Well, the less intrusive answer in the present are chatbots, personal robot messaging concierges that make Googling look so early 2000s. Chatbots can be accessed through mobile messaging apps like Facebook Messenger, Slack, Skype, and text (SMS). They use programming rules (and a splash of AI) to give you personalized info, news, advice, and recommendations based on your questions and requests. Best part: You can ask a stupid question and get a smarter answer.
HealthTap
Is that a bug bite, Chicken Pox, or … spaghetti sauce, maybe? The HealthTap chatbot gives you instant access to a real doctor so you can find out — minus the waiting room filled with Parents magazines older than you are.
Works On: Facebook Messenger
Cook With Julia
Nobody but your preschooler is impressed with the fact your top cooking skill is "knowing the perfect ratio of powdered cheese to macaroni." This chatbot will tell you what to do with any ingredient, and give you recipe ideas to make into dinner.
Works On: iOS
Sensay
Sensay is a chatbot that connects you with human experts on any topic, from finding the best place to get your kid a haircut to the nearest Lids store to cover it up.
Works On: Slack, Kik, Facebook Messenger, Telegram
Sentinel
This chatbot sends you price drop alerts about the things you've been waiting to buy on Amazon. So, no more obsessively checking your cart waiting for the price of that TV to hit a price you won't get kicked out of the bedroom for paying.
Works On: Facebook Messenger
CarBros
If the words "RIP Click" mean something to you (or maybe they will to your dad), then CarBros is the car-buying advice source you've been missing. The chatbot pulls in data from thousands of consumers to give recommendations tailored to your auto needs. Spoiler alert: You're getting a minivan.
Works On: Facebook Messenger
Musement
Chatbots can't judge you for being a tourist. And because flipping through guidebooks and maps mean nothing to an impatient kid who just wants gelato, you can just message Musement. It will provide instant recommendations on activities, attractions, tickets, tours, all-city passes and more. More being ice cream.
Works On: Facebook Messenger
Record Bird
You have a child. You can't be expected to stay on top of when your favorite artist is releasing their next album. Just clue this chatbot into what you're looking for and it give you a heads up when that funky joint drops. Do the kids still say "drops"?
Works On: Facebook Messenger
Marsbot
Marsbot from Facebook isn't exactly a chatbot that you ask questions — it's more like a robot hipster who follows you, judging wherever you go. All that follow has a purpose, though. By knowing the places you visit, Marsbot will recommend other cool locations — from coffee shops to erotic bakeries. (Oh right — your brother-in-law's bachelor party.)
Works On: Facebook Messenger
MurphyBot
What if you had a robot who could handle all your kid's nonsensical "What if …" questions? Type them into Microsoft's new know-it-all buddy Murphy and get an illustrated answer that's a lot better than whatever half-baked response you could make up.
Works On: Facebook Messenger, Telegram, Skype
Operator
The perfect chatbot for when your kid has been begging for that one toy for their birthday, but they can't remember the name of it. And you're pretty sure they just made it up. Text that vague description to an Operator personal shopper and they'll know exactly you want. Hint: It's probably LEGOs.
Works On: iOS, Facebook Messenger, Android
Fatherly Dad Joke Bot
Fatherly's very own chatbot exists to remind you of the main reason you became a dad in the first place: Puns! Dad Joke Bot will serve up the right wordplay for any occasion. Like if you're about to do battle in the Punderdome.
Works On: Facebook Messenger, Slack, SMS
This article was originally published on