The Best Celebrity Bourbon & Whiskey to Add to Your Liquor Cabinet
Who knew McConaughey, Drake, Bob Dylan, Walton Goggins, and The Pogues had such good taste?
by Nicholas McClelland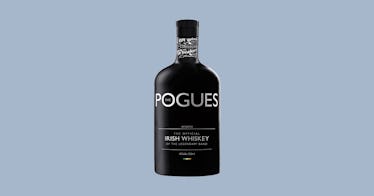 The whiskey business is booming and while everyone is trying to get in on action, celebrities are using their notoriety to get a leg up on the competition. While some efforts are not inspiring (looking at you, Florida Georgia Line and your Peach-Pecan Whiskey), there are a number of excellent whiskies from companies that have celebrity owners or partners. Such folk as Bob Dylan, Drake, and The Pogues all have surprisingly great bottles that are worth adding to your collection. Here are our favorites.
Heaven's Door Tennessee Bourbon — Bob Dylan
Created in partnership with Bod Dylan, this sourced Tennessee bourbon is one worth tracking down. Rich and delicious, it has flavors of vanilla and buttered toast that mingle well with a subtle spice.
The Pogues Irish Whiskey — The Pogues
The Celtic British band The Pogues have been inspiring song, dance, and drink for more than 30 years. Made in partnership with the independent West Cork Distillery, the whiskey that bears their name is as lively as their music. It's a bright, balanced whiskey, rich with notes of lemon peel, pepper, and chocolate.
Wild Turkey Longbranch — Matthew McConaughey
When we heard Matthew McConaughey had been hired on as Wild Turkey's Creative Director, we gave our eyes a little roll and wished the actor 'god's speed' in cashing a big-ass check. But when we got our first taste of Longbranch, the resulting collaboration -—a bourbon filtered with Texas mesquite and oak charcoal — we were loathed to admit our jaded impulses got the better of us. It's a strong offering for less than $40. Tasty notes of butterscotch, leather, and vanilla buttress a healthy dose of char for a dram that is much more than just 'alright, alright, alright.'
Virginia Black American Whiskey — Drake
What does a Canadian rapper know about American whiskey? More than we would have thought. While the bottle design looks more like a cologne you'd get from a bathroom attendant and not a bartender, the whiskey inside is pleasantly accessible. Notes of vanilla, caramel, and apple give way to a slightly spicy finish.
Mulholland American Whiskey — Walton Goggins
You might not recognize his name, but you definitely know Walton Goggins. He's that guy from The Shield. And Justified. And Tarantino's Django Unchanged and The Hateful Eight. The acclaimed character actor is also co-owner of Mulholland Distilling, which finishes their Indiana sourced American Whiskey off in California It's a young dram with tasty notes of caramel, fruit, cinnamon and a whiff of spice. Bottled at 100 proof, it's makes a solid base for a whiskey cocktail especially a crowd pleasing highball.
This article was originally published on