The Best Car Snacks, Paired with the Perfect Vacuum
A food pairing we can get behind.
by Lauren Steele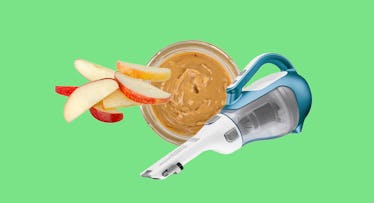 Packing snacks for the car is a deceptively tricky thing to do with kids. You have to have something that entices them but is also filling and healthy. Furthermore, it needs to not make a huge mess — for them or the car. We tapped Willow Jarosh, R.D. and founder of C&J Nutrition, to help us take care of the former, and for that mess, well, we paired each snack with a handheld vacuum (for parents not lucky enough to have a built-in unit) to handle any spills that might find their way onto your seat or floorboards. Here are some food pairings we can get behind.
The Snack: Nut butter + Fruit Wraps (or Sandwiches)
"A great car snack is interesting, fun, tasty, and provides a balance of high fiber carbohydrates, protein, and fat so blood sugar levels stay stable and no one gets hangry," says Jarosh. This one certainly fits the bill. "Spread nut or seed butter onto a whole grain tortilla, then layer with fruit and cinnamon, and roll up," Jarosh says. "You can also make a classic nut or seed butter and fruit sandwich." Our favorites? Peanut butter and banana sandwiches, almond butter and berry wraps, or apple butter and sunflower butter sandwiches.
The Vacuum: Dyson V8 Absolute
May the commute gods forbid your child from smearing nut better all over your seats — but if you do find yourself at the hands of this misfortune, look no further than Dyson. The Dyson V8 Absolute ($480) has a powerful motor, but it also comes with a turbo button that takes the suction power to a new level if need (and nut butter be).
The Snack: Edamame
Make sure you buy the pre-cooked frozen kind that's in a pod and "make sure it's thawed by the time you want to snack on it," Jarosh says. Bonus points for sprinkling in a little sea salt or paprika for extra flavor.
The Vacuum: Black + Decker CHV1410L 16V Cordless Lithium Hand Vacuum
Car spills (and tiny edamame beans) end up in some pretty weird places. The Black + Decker CHV1410L 16V Cordless Lithium Hand Vacuum ($54) can reach them, thanks to it's rotating slim nozzle and removable nozzle brushes. Plus, you can throw it in the trunk and forget about it since this mighty little vac can hold a charge for up to 18 months.
The Snack: Tuna or Salmon Pouch with Whole Grain Crackers
"This snack is a great way to get a good protein boost in," Jarosh says. Plus, it breaks the monogamy of snacks that are often on the lighter, sweeter side. This snack is savory and hearty.
The Vacuum: Black + Decker BDH2000PL
Tiny cracker crumbs can get caught easily in traditional vacuum bags. The Black + Decker BDH2000PL ($65) is a cordless, bag-less vacuum that traps crumbs inside the bowl-like chamber. Plus, this vacuum's filters are washable—which saves you time and money since you won't need to buy new ones each time the filter gets dirty.
The Snack: Veggie Sticks and Hummus (or Guacamole)
"Bring along individual containers of hummus and guac for dipping," says Jarosh. We love these U Konserve BPA-free, leak-proof stainless steel mini to-go containers. They're environmentally friendly and the perfect size for dipping.
The Vacuum:Metropolitan VM6BS 500
Heavy, thick dips like guacamole or hummus need some serious lifting power to get cleaned up. At 500 watts of power, the Metropolitan VM6BS 500 ($105) has you covered. The long tube nozzle can reach into all the creases and crevices of your interior with no problem.
The Snack: Fruit Slices Dipped in Greek Yogurt
Pack five to six ounces of any flavor of Greek yogurt and use it as a dip for fruit slices as a heartier snack. "The live active cultures in the yogurt and fiber in the fruit can help digestion during travel and the protein in the yogurt is a great way to get a protein boost into a flavorful snack," Jarosh says. Take the opportunity to get creative with the flavors. Peanut butter and cinnamon yogurt with apple slices, anyone?
The Vaccum: Dirt Devil Extreme Power Wet/Dry Cordless Hand Cleaner
Cleaning up both wet and dry messes with yogurt and fruit only takes one tool. The Dirt Devil Extreme Power Cordless Hand Cleaner ($90) can be safely used to clean up crumbs off your floor mats or spilt milk on your seats—thanks to it's filtered wet/dry system and extender nozzle. It's cordless, (not battery operated) so you'll have to charge it in the house between trips, but the 15.6 volts of power will get any small job done while you're on the road.
This article was originally published on