The Best Infant and Toddler Car Seats
A great car seat doesn't need to weigh a ton.
by Fatherly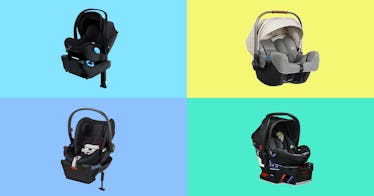 A car seat will be one of the major, if not the major, purchases you make as a new parent. And yes, choosing the right infant car seat or toddler car seat can feel intimidating. It shouldn't. The guidelines, issued by the American Academy of Pediatrics (AAP) are clear: All babies and toddlers should ride in a rear-facing only or rear-facing convertible car seat until the age of two.
"I know it can feel complicated. It's not," says Dr. Benjamin Hoffman, the chair of the American Academy of Pediatrics' Committee on Injury, Violence and Poison Prevention.
You can choose between two types of car seats when it comes to your newborn. Rear-facing only car seats generally fit babies weighing up to 22 to 35 pounds, depending on the specific model, usually have a base that remains in the car, and have handles so you can lift the car seat in and out of the car. You get limited use out of them, but that's mitigated by the convenience of being able to easily get the seat in and out of cars.
Convertible car seats will serve you for longer but they're also significantly heavier; they can be converted to forward-facing car seats for older children, once they outgrow either the weight or length limit for rear-facing seats, so they're the more economical option. They are meant to stay in the car and do not have handles. Car seats can be installed with either the vehicle's seat belt or its LATCH (lower anchors and tethers for children) attachment system. These car seats also have a five-point harness that attaches at the shoulders, hips, and between the legs.
"The convenience aspect of the rear-facing only car seats that come in and out of the car using a detachable base, that is invaluable. If the family doesn't have the means to purchase two car seats, the convertible seat is fantastic," says Hoffman.
These car seats are all from the AAP's 2021 car seat product list, and to help guide you, we picked some of the most lightweight ones you can buy. With convertible car seats, weight comes into play if you're moving it between vehicles, or lugging it through airports.
Where available, we provided the ease of use rating from the National Highway Traffic Safety Administration. All of these car seats meet the Federal Motor Vehicle Safety Standard 213 for safety. As for accessories to attach to your car seat to entertain your kid, like plastic mirrors, opt out. These items are not regulated and have not been crash-tested.
Every product on Fatherly is independently selected by our editors, writers, and experts. If you click a link on our site and buy something, we may earn an affiliate commission.