Life-Saving Car Seat Alarms That Remind Parents There's a Baby in the Back Seat
An average of 37 children die in hot cars every year.
by Dave Baldwin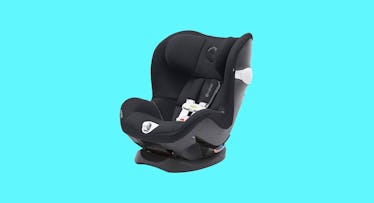 A good car seat alarm can be a lifesaver. Quite literally. An average of 37 children die each year in hot vehicles, according to the safety organization Kids and Cars. According to the American Academy of Pediatrics, heatstroke is the leading cause of non-car crash vehicular death in children under 15. Children's bodies heat up three to five times faster than adults', and because cars can heat up in as little as 10 minutes, kids can experience heat stroke even it's only 57 degrees outside.
The good news is there are precautions parents can take to avoid encountering these nightmare scenarios. Parents should never leave kids alone in hot cars, but it can happen, even unintentionally. Car seat alarms, monitors, and sensors serve as a reminder. Of course, adults should always check the back seat before walking away, buckle their children before driving, and never leave kids alone in a hot car. But life happens, and even the most well-intentioned caregivers can forget. Investing in a car seat monitor or alarm or a car seat with sensors can provide an extra layer of protection.
Some car seats have built-in sensors that attach to the harness and sync to a phone, alerting caregivers when a child is left alone or their temperature becomes too high or low. Another option is a small, independent car alarm that attaches to car safety belts, monitors weight or motion to detect the presence of a child, and syncs with a phone. Both car seat alarms serve the same purpose: to set off alarms should an adult walk away from the car while the child is inside, whether by sensing movement, or monitoring temperature, distance, or weight.
Car seat alarms and sensors can't replace caution and good sense, but they can provide an extra reminder that kids are in the car and ease worried parent's minds. These are the most solid car seat alarm options on the market right now.
Every product on Fatherly is independently selected by our editors, writers, and experts. If you click a link on our site and buy something, we may earn an affiliate commission.
This article was originally published on