The Best Car Safety Tech For Families
The amount of standard safety technology in even economy cars in 2019 is astounding. But you don't need to buy new to get it.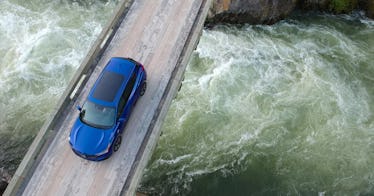 acuranews.com
Here's a little secret the car industry doesn't like to shout about: model cycles run about four years. So when they say there's a "new" Earthcrusher 5000 or Sportsrocket 70, the newness is more likely what they like to call a model refresh. Which could be more shapely sheetmetal or just a new badge on a car that debuted three years back. What's evolving incredibly quickly, however, is safety tech. And that's the real selling point.
The amount of standard safety technology in even economy cars in 2019 is astounding. Hell, five years ago, much of it didn't exist on even $300,000 super luxury rides. The good news: Because safety systems morph so rapidly you don't necessarily have to spend on brand-new to get a lot of it. Driving a two-to-five-year-old car is wiser, so if you're still rolling around in a 2003 Suburban thinking that its sheer size will save you, think otherwise. Can't afford to drive new? Upgrade from something ten years old to something three years old. It'll save you gas money, repair costs — and keep you and your family safe. Here are the technologies to consider.
Lane Detection
There are several layers of lane detection technology. The most aggressive is something called Lane Keeping, and gets various names and acronyms depending on the carmaker. Mercedes calls it Active Lane Keeping Assist and you can get it across a range of their 2019 cars, including the new $32,500 CLA Coupe. The system uses sensors to detect cars in your blind spot, and if you attempt to merge into a lane that's occupied, uses the car's electric steering to nudge the car back into its lane. You can still swerve and over-ride the system, if judge that some object in your lane that the system doesn't detect poses a greater danger to your mortality, but the system is designed to prevent the most common kind of highway accident.
Lane Departure Warning
Even a base, $20,520 Honda HR-V for 2019 comes with lane-departure warning and very light Lane Keeping, where the electric steering nudges you back into your lane. Older cars use some combination of an LED light that flashes within the sideview mirror and, sometimes, audible warnings to tell the driver they're about to merge into an occupied space on the highway. This tech has been around for a while. Hell, a used 2016 Honda CR-V is actually larger than the HR-V and you could easily find one with lane-departure warning technology. Just note that you have to use the tech: The Insurance Institute for Highway Safety has found many buyers turn the technology off, or never enable it depuste the fact that they also found that using it significantly cuts the risk of accidents.
Blind Spot Detection
Like the more aggressive tech that can actually prevent your car from merging into another lane, blind spot detection is meant to keep you from making that mistake. But in some cars it's less intrusive. A simple light illuminates in your sideview mirror, with no steering control and no noise to bother you. It's up to you to keep the car from crashing, but for a lot of drivers, the light alone is enough. Even he base, $21,895 S model VW Sportwagen (an affordable five-passenger alternative for folks who don't dig the crossover craze) comes with this technology, and going back to 2017, if you're shopping used, you could also find the Sportwagen with the system. There's no noise — just a light that tells you the lane is occupied.
High Beam Assist
Headlights are certainly getting brighter, though in reality the distinction is that the light itself is more sharply defined. So the LED lights on the $37,900 Premium Plus version of the Audi Q3 five-passenger crossover do a better job of helping you see hazards ahead — and feature auto-dimming of the high beams, so that you don't blind oncoming drivers. This is pretty key, because high beams have become especially potent and not dimming them is definitely increasingly dangerous for anyone who drives at night.
Fortunately, although it's coming later to the U.S. than in Europe, a new headlight technology that narrows the beam of light (literally boxing it in) to shield oncoming cars will be welcome for all drivers. It's probably not arriving before 2020 or so. But auto-dimming high beams and even those that automatically turn as your car maneuvers through corners aren't so new that you can't find them on used models. The 2017 Hyundai Santa Fe, for instance, won a Top Safety Pick from IIHS and has both technologies, and these are both roomy and very comfortable cars for families.
Backup Camera
The new normal is that as of last May, every new car sold in the U.S. must have a backup camera. So we could list, literally, any new car here and it would have this basic, but exceedingly handy tech for preventing rear bumper dings — and also running over someone. IIHS's studies conclude that one in six backup accidents are prevented by the addition of backup cameras, and in particular, that they greatly aid drivers in spotting small children, who are frequently at well below window height (and therefore, rearview mirror height), particularly when Americans are increasingly driving large SUVs. We particularly like Nissan's easy-to-use Around-View technology that incorporates the perspective of several cameras at once, so you can see around the entire car.
Smart Cruise Control
Smart cruise control uses forward radar sensing to detect your distance from the car in front of you, so that if another car cuts in, the following distance is maintained. In some cases, however, these systems don't allow the car you're driving to follow very closely, which means that in heavier traffic you're too frequently cut off. We like the happy medium in Toyota's $25,650 Camry, because it lets you get a little closer to the car ahead, without putting you in danger of being unable to slow down in case you need to. FYI, smart cruise control has also been around for quite some time. You could, for instance, shop for a 2014 Mercedes-Benz C-Class and find the technology called Distronic Plus in their cars.
Stability Control vs. Traction Control
If you're driving a ten-year-old or older car, it's quite possible it doesn't have stability control, and maybe not even traction control. Let's make something clear: You need and want both. Traction control, to be reductive, slows wheelspin when you're trying to get unstuck. So whether the vehicle has front- rear- or AWD, traction control is applied to prevent a burnout. It helps especially when you're stuck at a light that's facing uphill and you have to mash the gas to get going, and maybe it's wet or snowy out.
Stability control is more complicated. It detects the steering angle of the car—that is, where you're aiming it. If the intended path and the actual direction don't correspond exactly, stability control can brake individual wheels to correct the car's skid. There are so few cars sold new today without both technologies, but we will highlight that some brands like Acura use the technology to make their cars handle better during everyday driving. So the RDX gets something called Agile Handling Assist to brake wheels when you're cornering hard. This deployment is distinct from trying to stop a skid; it's like a tiny course correction so the vehicle carves the corner more effectively, so you can drive more like a badass.
Drowse Detection
There are various ways carmakers have figured out how to measure if a driver is sleepy. Some actually measure your eye-blink rate (yep, with cameras looking at you), while other systems measure the car's behavior. Volvo has studied how sleepy drivers' inputs impact how they steer, brake, etc., and say they believe their system can detect a sleepy driver with 97 percent accuracy. That system is called Driver Alert Control and will tell you it's time to get to a rest stop—and can even use the car's navigation to guide you to one. If you don't dig the XC40 crossover mentioned elsewhere, Volvo offers the tech in many of its models, including the great new $38,900 V60 and slightly burlier, lifted AWD Cross Country version.
Automatic Emergency Braking
According to the Institute for Highway Safety, automatic emergency braking (AEB) can halve the number of rear-end crashes in the U.S. What's AEB? It uses radar, sometimes laser and other tech to spot a braking or stopped object ahead. If the driver isn't paying attention it will first warn him, and if he's still in space, will automatically apply the brakes to, at the very least, slow the car significantly, greatly reducing the chance of injury.
These days Toyota is leading the charge on AEB, so many of their 2019s have the tech. The $24,660, five-passenger RAV4 comes with it as well as combination of lane-departure warning and lane keeping, auto-dimming high beams, and adaptive cruise control, as well as pedestrian detection. Toyota's had AEB on some of its models since 2015, including the RAV4, and on Lexus RX crossovers since then as well. Do some homework on a used edition and you'll be benefiting from some of the most important accident prevention ever invented.
Pedestrian Detection
Volvo's had some form of pedestrian detection since 2011. And the tech does exactly what it sounds like, scanning the road ahead and stopping or at least slowing the car if you fail to. These days Volvo's system detects much more than pedestrians, and includes sensing both animals and cyclists. You can find it on every Volvo, and it's standard on the excellent $33,700 Volvo XC40, one of our favorite crossovers to debut in the last three years. On the used market there are other models besides Volvos with the technology. Subaru's EyeSight system features pedestrian sensing and has been out since 2013, so you can hunt for Legacys and Outbacks, as well as the Forester from 2014 forward with Eyesight, which, importantly, also includes warning of a forward crash, automatic emergency braking, adaptive cruise control, and lane departure warning.
Cross-Traffic Alert
The new $36,450 Hyundai Kona Electric is a small crossover that gets a pretty impressive 258 miles of range per charge. Hyundai also bakes in just about all their best safety tech, including rear cross traffic alert, blind spot monitoring, lane keeping, smart cruise control, forward collision prevention, drowsiness warning… It's almost everything in this story. As for cross-traffic assistance, this system is especially useful for when you have to back into traffic. It monitors cars from both directions to make sure you can back up when the coast is clear.
If you can't afford the Kona, Nissan pioneered this technology way back in 2010 and you can search for it on many of their models. In addition a crossover like the 2017 Rogue has what Nissan calls moving object detection that works when you're pulling out and a child or pet might be near the car and you can't see them or it. This is obviously the kind of technology that's well worth having to protect both your own family and any family you might visit regularly.
This article was originally published on