The Best Cameras for Beginners and Experts
Whether you want to document your vacation with a pocket cam or go big with a DLSR, these are the best shooters of 2017.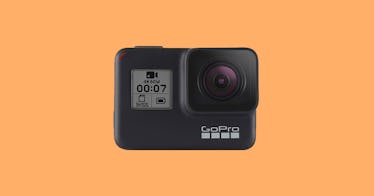 Smartphone photos, even if you have the very latest gear, just can't compete with the quality of a picture taken on a dedicated camera. Print anything bigger than a 5″ x 7″ shot and it won't be as rich, clear, or powerful as it would've been had you used a "real" camera. The same is true of video, where the ability to shoot in 4K on a lens larger than a nickel is seriously mind-blowing. And because parents are amateur documentarians at heart, it's a good idea for them to invest in a decent, dedicated camera. Your kid is only going to take her first step once, and you'll want to make sure you get a nice, clear video to send to the grandparents.
RELATED: Horrifically Photoshopped Family Photo Shoot Goes Viral
Naturally, the next question is: what to buy? With so many different models with different capabilities at different price points, there's no one right answer. We've assembled a variety of models that boast varying talents, from serious shooters for photo buffs to point-and-shoot models. All are packed with the pixel-grabbing power to put your smartphone to shame. Whether you're a hobbyist looking to develop an artistic eye or you're just trying to be a good dad capturing your family's epic moments over the years, it's worth it to invest in a camera on a device you don't primarily use for Candy Crush and Twitter.
This camera shoots huge, 24 MP images with an excellent sensor that offers wide dynamic range for less blown out photos and solid multi-point focus. And, thanks to its 1/8000 second shutter, you can capture sharp shots of your kids no matter how fast they move. There's also a smart, semi-auto mode that lets the camera auto-expose even if your daughter runs from sunlight to shadow across your backyard. The video is similarly glorious, capturing rich 4K. Thanks to the tilting and rotating LCD, you can chase a toddler around all day without ever having to actually crawl to get the shot.
Contrary to popular belief, a pocket camera and the camera in the phone in your pocket aren't the same. Not even close. Try 30x zoom, which this cam pulls off fantastically, with your smartphone and you'll see a grainy blob (because smartphone zooming is mostly digital, and optical zoom is far, far superior). With an even smaller footprint than most smartphones, the DC-ZS70 easily fits in a shirt or jeans pocket, and the articulating screen flips to face the camera's front—perfect for selfies with your kids. Bonus: 20MP RAW format images also let you noodle more in Photoshop than more compressed JPEGs shot on your phone.
Sure, you can fire away in auto mode — at which, by the way, the Rebel camera is excellent. But if you want to learn about depth of field, exposure compensation, and other stuff actual photographers consider the menus teach you about the effect of making manual changes. Another plus: Unlike a lot of DSLRs, the t7i lets you shoot by using the LCD screen and its results are just as quick. Not to mention, and a nifty subject tracking function lets you tap on, say, your kid chasing your new puppy around the kitchen floor and the camera keeps the action in focus.
For instance, this camera's sophisticated, 153-point image detection system blankets the entire frame in tiny sensors, and not only detects the motion of any subject you're tracking but also meters that subject and the sources of light in the frame. The result: The subject is in perfect focus and perfectly lit, and none of the surrounding frame is over- or under-exposed. Oh, yeah, the D5 fires up to 12 frames-per-second and you can hold down the shutter for an astonishing 200 images, which is basically like filming. All of this should equal puny battery life, right? Not so much: You can take up to 3,780 shots on a single charge.
With this camera, you can stream birthday parties and dance competitions online for the grandparents to watch, and if your kid is into sports the slo-mo video (thanks to a high frame rate) is a godsend. The camera can capture 4K video at 60 fps and, like all GoPro cameras, it's rugged and waterproof. And because it's less than two-and-a-half inches on its longest side and weighs just 4.2 ounces, it's the most portable camera on this list so it's easy to keep it in a diaper bag or the glove compartment of your car.
And Fuji has a whole line of cameras to use it, enabling you to shoot superb instant shots. The mini 90 is great, too, because its controls are super simple, yet its party, kids, landscape, and macro modes let you do more than just press the trigger. The double exposure mode is especially clever: Snap one shot, move the subject or change the scene, and snap another, and the two images layer on top of each other. Best of all, the shots develop in about two minutes, ready to be stuck to the fridge or passed around to friends.
This camera is great to capture a more complete version of a scene. Imagine standing at the Lincoln Memorial, taking a selfie of the family, and also capturing the Washington Monument. The four-channel mic records audio that's similarly enveloping, and Bluetooth and wifi connectivity make it easy to unload your pictures and videos. You can even create your own VR experiences with the photos and videos you make, a feature your kids are sure to love.
Every product on Fatherly is independently selected by our editors, writers, and experts. If you click a link on our site and buy something, we may earn an affiliate commission.