The Best Bubble Machines, Guns, and Wands for Blowing Giant Bubbles
Blow giant bubbles in the backyard with the best bubble guns, machines, and wands.
by Dave Baldwin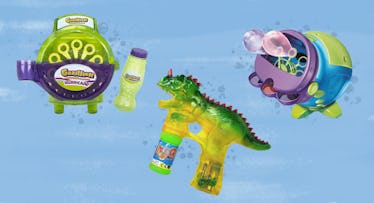 If you want to see a group of toddlers go absolutely crazy, blow bubbles down on their little heads. They'll jump, and squeal, frantically race around in circles like kittens chasing a ball of yarn. It's adorable and entertaining. But it can also be frustrating as hell. That's because standard bubble machines and bubble wands usually suck. You blow, the bubble breaks. And that's if you were lucky enough to get any mix on the bubble wand in the first place. Go ahead, dip it back in, just make sure you pinch the handle so it gets the bottom. Son of a…
RELATED: Lick-a-Bubble Lets Kids Make Edible Bubbles Out of Their Favorite Drinks
Luckily, blowing bubbles doesn't have to be like this. There are plenty of giant wands, bubble guns, and bubble machines on the market that not only blow massive bubbles, but also hundreds of them at a time ⏤ and in different colors. So to make your kid's next backyard bubble bash more fun than frustrating, here are ten of the best, including a bubble gun that looks like a dinosaur and a $100 professional bubble blaster technically made for DJs.
WOWmazing Giant Bubble Wand Kit
Little-known fact: The key to blowing world-record-sized bubbles is to use two wands, not one. And that's what the WOWmazing does. It's a "tri-string" bubble wand that uses two separate wands connected by a giant string loop. The concentrated solution is mixed in a separate bucket, and it's recommended for kids six-years old and up.
Haktoys Dinosaur Bubble Gun Shooter
Pull the trigger and this battery-powered (three AAs) bubble gun unleashes a barrage of bubbles from the dino's mouth. Doesn't get any easier than that. It's made for kids age three-years-old, lights up when fired, and also comes in a non-dinosaur design. Even better: Haktoys recently removed the sound to make it "parent-friendly."
Crayola Colored Bubbles Machine
The beauty of Crayola's "messy fun" bubbles is that they come in a bunch of bright colors; and, despite being messy, they're advertised to easily rub off of skin and less-easily wash out of clothes. The portable bubble Gatling gun is for outdoor use only (naturally), requires four 'C' batteries, and can shoot up to three colors (bottles included) at once.
Fisher-Price Bubble Mower
Not only does Fisher-Price's tried-and-true classic bubble machine generates a ton of bubbles simply by pushing it, but it also gets kids excited about mowing the lawn ⏤ because you can never get 'em started too young. The mower boasts realistic sounds, a "motor" that spins, and works as well in the driveway as it does on the grass. Better still, your kids can start "mowing" at age two.
Gazillion Bubbles Hurricane Machine
Heavily reviewed and highly ranked, the Gazillion Hurricane Machine makes more bubbles than an army of kids could pop in a day ⏤ a ridiculous 500 per minute. Simply insert the eight-ounce bottle of "top secret" Gazillion Bubble solution ⏤ yes, it comes with its own proprietary bubble mix but can use others ⏤ turn it on, and watch a 20-minute Category Five bubble storm engulf the backyard.
Fubbles Monster Bubble Maker Wand
According to the company, the Fubbles Monster Wand can make bubbles as "big as you are!" And thus, presumably, many times bigger than the actual small child waving it. In addition to the wand, the kit comes with four ounces of bubble concentrate (that makes 28 ounces of solution) and an inflatable dip tray.
ADJ BUBBLETRON
The kind of bubble maker you'd enlist if you were shooting a video for Akon, the Bubbletron is a portable (four-pound), professional-grade bubble maker that rains an inordinate number of bubbles down on your kid's backyard birthday bash and dance floor. It has an easy access fluid tank, a wired remote with 25-foot cord, and runs for two hours on a quart of any brand of bubble mix.
Lick-A-Bubble
Bubbles are almost perfect, if not for one thing. That's right – they could work on their taste. Perhaps you've never eaten a bubble, or you have and it conjured up ugly memories of the time your parents heard you swear. Lick-A-Bubble will expand your palate. Pour any drink into the bottle and mix for roughly 10 seconds. Catch the bubbles in your mouth, and they'll taste the beverage of your choice.
Glove-A-Bubbles
Waving a bubble wand can get tiring. Making bubbles with your hands can feel magical and easy. Glove-A-Bubbles is exactly what it sounds like: a glove you put on with holes above your fingers. Dip it in bubble solution, and every time you wave hello bubbles will seem to burst from your fingers. Different cartoon animals' faces are printed on the gloves, including a lion, alligator and panda.
MEGALOOP Bubble
The only thing cooler than blowing a bubble you could fit inside is actually fitting inside that bubble The MEGALOOP Bubble is a 14″ by 14″ by 3″ bubble wand that allows you to put your kid inside a bubble. Or you can create giant clouds of bubbles right in your backyard.
This article was originally published on