Best Bourbons That Aren't Made in Kentucky
Nope, it doesn't have to be made in the Bluegrass State to be called bourbon.
by Nicholas McClelland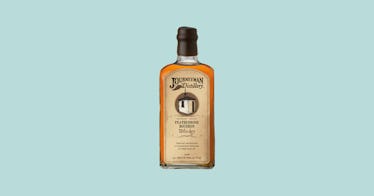 If you're a whiskey drinker, chances are you've been told that if it's going to be called bourbon, it has to be made in Kentucky. But we're here to tell you different. In order to use the b-word, your brown liquor has to have been made in the USA, be at least 51 percent distilled from corn, and put into new charred oak barrels at 125 proof or less. That's pretty much it.
Yes, 95 percent of all bourbon is ginned up in the Bluegrass State. It's kind of a thing there and it's kind of amazing. But some of that 5 percent produced beyond Kentucky's borders is worth your time, your money, and a little damage to your liver. Such as these five bourbons made in New York, Tennessee, Wyoming, Illinois, and Michigan.
Benjamin Prichard's Double Barrel Bourbon
Made in: Tennessee
Typically, bourbon is cut with a bit of water after the whiskey has finished aging in the barrel. After a spell in the wood, Prichard's takes its precious juice out of the cask, proofs it down to 45 percent ABV and then re-barrels it in new charred oak for more flavor before bottling. It's a luxuriously warm mouthful, with classic bourbon vanilla, wood, and baking spice notes.
Wyoming Whiskey Small Batch Bourbon
Made in: Wyoming
Wyoming Whiskey's Small Batch Bourbon is a dram that offers a unique surprise to the palate. Made from a mash of local, non-GMO corn, wheat, and barley, Wyoming Whiskey's Bourbon is fresh and light in the mouth. Grassy, floral notes give way to dried fruit, cinnamon, and caramel with a finish that leaves a mouthwatering shimmer on the tongue.
Few Bourbon
Made in: Illinois
Evanston craft distiller Few uses a mash that includes 20 percent rye, which gives their bourbon a delicious floral quality. A mouthful delivers notes of oak and butterscotch with a punch of pepper. While we love it with a cube, it also makes a stellar bourbon Old Fashioned.
Journeyman Featherbone Organic Bourbon
Made in: Michigan
In a nice bit of irony, Journeyman distills their spirits in a former leather goods factory owned by a leading local prohibitionist. The company uses only organic grains in the spirits and their Featherbone Bourbon is no exception. The whiskey is sweet with a hint of ginger and spiced nuts. It's an approachable dram and a solid cocktail anchor.
Hudson Baby Bourbon
Made in: New York
New York's first legal distillery to open since prohibition, Tuthilltown Spirits makes a variety of whiskies (and other spirits.) Their Hudson Baby bourbon uses a mash of 90 percent corn, which gives the whiskey a lovely sweetness, while four years in gives it a soft oaky quality and a hint of toasted almonds. It's an easy sipper on its own or great in what would usually be called a Kentucky Buck, which would be a misnomer since, of course, the bourbon is made in the Empire State.
This article was originally published on