5 Great Bourbons Under $30
Who says you have to spend big bucks to get a quality bourbon?
by Nicholas McClelland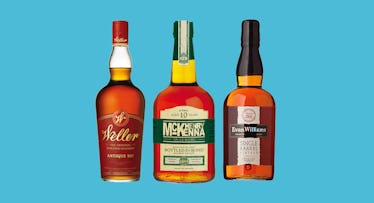 It is both the best of times and the worst of times for bourbon drinkers. The recent global obsession with whiskey has created an interesting dilemma for fans of the Kentucky spirit. On the plus side, there's great bourbon in nearly every neighborhood bar and local liquor store. The bad bit is, of course, it's becoming much more expensive. The prices of old staples seem to creep a little higher on every run and the new stuff all seems to hit the shelves at the $50 mark.
But good bourbon doesn't have to burn a hole in your wallet. In fact, there's a good deal of inexpensive bottles that are more than worthy of your glass. And, no, they're not some bottom of the market swill. They're worthy spirits that just so happen to be decently priced. Here are five of our favorite bourbons under $30.
Henry McKenna Single Barrel
You've likely passed by Henry McKenna numerous times and paid it no mind. The packaging is less than eye-catching and the bottles are often relegated to the bottom shelf, but who cares? It spent 10 years in oak and is bottled at 100 proof, which makes it rich and flavorful with a long finish that will draw you right into another glass.
Old Weller Antique 107
Okay. Weller is a bottle that can be tough to find at your local liquor store. But when you come across it, stock up. It's a brilliant whiskey. Delicious on its own and paired with its partner in crime, W.L. Weller, you can create an 'approximation' of Pappy Van Winkle — with flavors of vanilla, oak, and caramel working in harmony to produce a rich and luscious mouthful of whiskey.
Evan Williams Single Barrel
Evan Williams Single Barrel is one of those gems that is relatively easy to find and hard to forget. Every bottle is marked with the barrel's serial number and two dates — the day it was laid down in oak and the day it was bottled. At 86 proof, it's an easy sipper and tip-top nightcap.
Old Grand Dad 114
Boom goes the dynamite. Old Grand Dad 114 is the heavy hitter on this list. The 114 in its title is, yep, because it's 114 proof, which means you're getting premium barrel-strength for less than $30. It's a rich whiskey that produces notes of dark fruit, spice, and oak that feels like it should cost much, much more. Also, you'll want to give a little extra care when measuring a pour, as it melts ice almost as fast as it melts sobriety.
Buffalo Trace
The way the prices of most old-school bourbons have crept up over the past few years, its almost a miracle Buffalo Trace still goes for under $30. It's an eminently sippable staple and a stunner in a cocktail thanks to its subtle hints of mint, brown sugar and anise. For a bit of fun the next time you have a party, pour a bottle in a decanter and let your guests try to decide what they are drinking.
This article was originally published on