The Best Gifts for 6-Year-Olds
Your first grader will love these picks.
by Donna Freydkin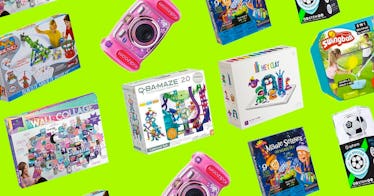 Even this year, when everything we know about school has been upended and no two school districts are the same, entering first grade remains a major milestone for kids — and their preferred toys change accordingly. By age 6, kids start to grasp the concepts of cooperation and sharing, and they understand the importance of friendships and group play. And true, they may have the odd tantrum or five, they are able to better regulate their emotions and communicate their needs and feelings. Therefore, when you're selecting toys for the 6-year-old in your life, aim for those that help with his or her development and encourage a love of learning and discovery.
The National Association for the Education of Young Children has some clear guidelines on the types of toys that will resonate with 6-year-olds.
The Best Toys and Gifts for 6-year-olds
Toys that help with problem-solving, like puzzles and building blocks.
Toys that facilitate pretend play, like transportation toys, construction sets, child-sized furniture, dress-up clothes, dolls with accessories, puppets, and sand and water play toys.
Toys that help kids create stuff, like art sets and modeling clay.
Toys that encourage physical activity, like balls and bikes.
Every product on Fatherly is independently selected by our editors, writers, and experts. If you click a link on our site and buy something, we may earn an affiliate commission.
The Best Building Gifts for 6-Year-Olds
The Best Artistic Gifts for 6-Year-Olds
The Best Learning Gifts for 6-Year-Olds
The Best STEM Gifts for 6-Year-Olds
The Best Active Gifts for 6-Year-Olds