The Best Kids' Binoculars for Intrepid Outdoor Explorers
Nature is better than screen time.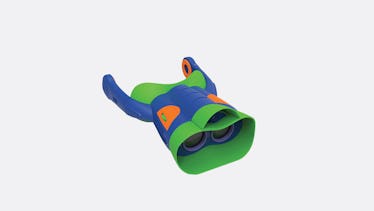 The best kids' binoculars let kids see the world around them in a new and magnified way. With binoculars for kids, intrepid explorers can see bugs in exquisite detail, and spot birds nesting in towering trees. It's STEM learning in action. Youth binoculars let kids explore nature up close, are durable, and lightweight enough to be toted around.
Our friends at REI have a few solid suggestions for picking out binoculars. You want a full-sized pair for birding or otherwise watching wildlife. A mid-sized pair is great for all-around sporting use. And a compact set, while being the lightest, are also the least comfortable because of their size (or lack thereof). In terms of magnification, binoculars have two numbers showing magnification power and lens diameter.
Binoculars with a magnification power of five, for example, make objects appear five times closer. And if you're taking your kid out to spot some hawks or eagles, get binoculars with a wide field view. And if you're heading out in nasty weather, consider getting a pair of waterproof or weather-resistant binoculars.
The Best Kids' Binoculars for Preschoolers
The Best Binoculars for Older Kids
Every product on Fatherly is independently selected by our editors, writers, and experts. If you click a link on our site and buy something, we may earn an affiliate commission.
This article was originally published on