The Best Bike Locks To Keep Your Wheels Safe
The best locks that (almost) guarantee your bike, scooter, or other means of transportation is still there when you come back.
by Ben Radding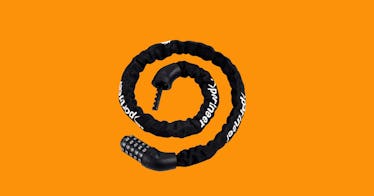 If you use a bike, scooter, or any other kind of self-propelled vehicle to get around town, getting your ride stolen is a massive bummer. And hence, you need a bike lock. So don't leave it naked in the street, and don't settle for anything but one of the best bike locks. That cheapie you picked up at the closest sporting goods store simply won't do the trick.
But which locks are the best for keeping your ride safe? We kept a few things in mind. For one thing, we only looked at steel locks. We also aimed to include a variety of designs. As different vehicles, riders, and locations require different locks, no one design is right for everyone. We also wanted to pick locks at a variety of price points, as investing in a quality lock doesn't have to mean breaking the bank, and it might not make much sense to slap a $120 lock on a $200 bike, for instance. But most of all, we looked for the most secure locks out there.
Here's what we found, the best locks for your bikes, scooters, and more. Stay safe out there.
Best Bike Locks
Pros: This bike lock weighs about one pound. It's flexible, so you can secure your bike pretty much anywhere. And it's actually wearable, if you're into that type of thing. The lock is integrated into the strap.
Cons: None, except the price.
Pros: You use the app to unlock this bike lock. It has a built-in alarm. And it shows you real-time riding data analysis such as speed, distance, time and calories burned.
Cons: This specific bike lock only works on standard spoke styles, so check your spokes before you buy it.
Pros: In the unlikely event someone is able to get through the 13-millimeter-thick steel shackle, Kryptonite offers anti-theft protection that will pay you money. The company will also ship two new keys to you globablly in the event you lose the three it comes with.
Cons: Some users complained that the updated key design on this model wasn't smooth to operate and could be prone to jamming.
Pros: It's light, weighing in at only 3.5 pounds, and it coils up for easy transport. It all links up via a hardened deadbolt — making it virtually unbreakable. A weather-resistant nylon outer-sleeve stops dings and scratches to your bike or scooter. Plus, when you buy Kryptonite, you can register your keys and if you lose them, they'll send you a new pair for free.
Cons: It might not last as long as you'd like it to — some users report them breaking after a few months. And the lock is known to stick.
Pros: This thing is nice and lightweight at just 10.58 ounces so it won't weigh you down on long rides. You can also set the combination to something that'll be easy to remember (though we don't recommend you use 1234).
Cons: Not the thickest or most secure lock out there, and if you have a pricey ride you'll probably want to invest in something a little sturdier.
Pros: There's a rattle elimination that makes this lock nice and quiet on even the bumpiest of rides. It comes in six different colors in both single- and double-packs, so you can pick up a couple of locks that match the color of your frame to double your security.
Cons: If you do buy a pair of locks they don't share the same key, which would be way more convenient.
Pros: The long, six-foot cable gives you the ability to wrap and wrap it to secure your bike or scooter to anything. We love that you don't need a key to open it — four digits offers 10,000 possible combinations. It comes with an included mounting bracket that lets you attach it to your bike or scooter. Coiling it up tight also makes it great for travel.
Cons: According to some owners, it can smell. So if you've got a sensitive nose, maybe skip this one.
Pros: Sixteen millimeters of hardened steel make this lock one of the sturdiest on this list. The disc-cylinder is pick and drill resistant. It comes with three complimentary stainless-steel keys, so don't freak out if you lose one. It's also resistant to twisting and single cut attacks.
Cons: It's definitely a little heftier than many bike locks, at nearly five pounds, so that makes it a little less easy to tote around. And the price is a wallop — but we think it's worth it.
Pros: Layers of steel and Kevlar make it pretty tough to cut and impossible to twist off. The three-digit combination lock means you don't have to worry about remembering any keys. Its design makes it versatile — locking anything from bikes to scooters to your tailgate cooler. And it weighs under a pound and coils three inches in diameter, making it probably the most portable lock on this list.
Cons: It's not the best lock for overnight or long-term use, as it lacks the longevity of a U-lock.
Pros: The SIGTUNA slips around a bike or scooter effortlessly thanks to the unique design and is long enough to link two bikes together, so it's great for riding around town with your kid. It comes with three complimentary keys, and the coating is soft, so it won't ruin your bike's paint job. It also weighs only a pound-and-a-half — impressive for a steel lock. Furthermore, SIGTUNA's locking mechanism is designed to protect against less aggressive (and less obvious) attacks like picking.
Cons: The lock wears out at some point — no telling when that is — but users report the key no longer fitting into it.
Pros: The cable is flexible for awkward parking situations, and the flexible cloth sleeve both protects your bike from scratching. It's also easy to set and reset your own custom combination.
Cons: It's not hard to wrap this lock around your handlebars, but wouldn't mind having kind of specialized clip or mount to keep it out of the way, particularly on bikes with handlebar-mounted accessories and brake cables that run along the frame.
Pros: This lock is great because when you're riding you can strap it around your hips like a belt. No bracket can offer that level of security, and it's also way better than leaving a U lock swinging from your handlebars. The nylon coating around the steel protects your frame and serves as an extra reflector during any night rides.
Cons: Wearing four and a half pounds of steel around your waist means you'll definitely notice the difference with this lock.
Every product on Fatherly is independently selected by our editors, writers, and experts. If you click a link on our site and buy something, we may earn an affiliate commission.
This article was originally published on