The Ridiculously Strong Zip-Tie Lock That Stuffs Into My Back Pocket
It's slim, secure, and able to lash down everything from roof-racked skis and coolers to kayaks and strollers.
by Ben McKinley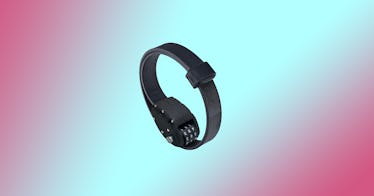 Living in Portland, OR, one of the most bike-friendly cities in the world, it's basically my obligation to ride to work. And I do. Every day. And, as a bike commuter, I've learned to keep my bike very secure. As such, I've experimented with hundreds of locks. U-locks. Chain locks. Cable locks. Padlocks. Combo locks. Recently, I started using a new device called the Ottolock and, let me tell you, it's not only the best bike lock I've ever used, it's the best multi-purpose lock, too. This thing is slim, secure, and able to lash down everything from roof-racked skis and coolers to kayaks and strollers.
A unique rubber coated sandwich construction of stainless steel and Kevlar, the Ottolock looks like a giant zip tie with a combination lock on it. And it basically is. It's extremely difficult to break through with the usual array of tools (bolt cutters, hack saws, sledgehammers) and the lock comes in three lengths — 18, 30, and 60 inches. Its combination lock is a simple three-digit model.
I started out with the 18" Ottolock because I wanted to keep weight and size penalties to a minimum. This length weighs in at a scant 140 grams and is a mere 3-inches coiled up, meaning that, unlike a U-lock or any other type of bike lock for that matter, I can easily stow it in my back pocket. Despite being so slim, this size is good for securing a frame tube to a relatively small post or rail. Once I started using it, I stopped carrying around any other locks.
And the Ottolock has been my go-to device for not only keeping things safe from bike thieves but also from bumps and other hazards of the road. This past winter, I used my Ottolock to cinch my skis to roof rack crossbars as I traveled back from the mountain. A few weeks ago, on a fishing trip, I used the lock to secure my cooler to the bed of my pickup. Recently, I used it to leash a few kayaks together. It's become as essential as a multi-tool; I bring it with me almost everywhere I go.
If you want to secure your bike frame and wheels or other other larger gear items, I recommend looking into the 30- or 60-inch Ottolocks. Better yet, buy all three. You can pick and choose the right lock for the application, and even lock multiple locks to themselves for larger items. It's a gamechanger for sure.
The Ottolock is available in a variety of colors, including black, yellow, and a recently released camouflage. Prices start at $55.
This article was originally published on