The Best Kids Bike Helmets So They Can Shred — Safely
These helmets will keep your kid's noggin both safe and looking stylish.
by Jon Gugala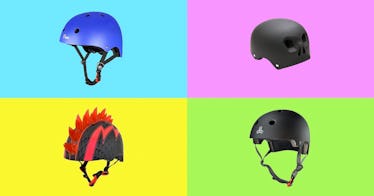 The best kids helmets are, of course, the one a child actually wears — every time he or she gets on a bike, scooter, or skateboard. Bicycle helmets for kids and toddlers should be considered essential gear regardless of age and experience level, but especially for those who are just learning how to balance themselves. While there are a variety of options from the flashiest to the most subtle, all kids bike helmets should meet two criteria. The first is whether that shiny new youth bike helmet actually fits him or her at his or her current height and weight. The second is as important: whether your child will put it on and keep it on. The best bike helmet fulfills all the safety requirements and also appeals to kids' interests — aesthetically or otherwise.
The National Highway Traffic Safety Administration has some clear-cut tips for making sure the helmet fits.
The bike helmet should sit level on the head and low on the forehead, which means about one or two finger-widths above the eyebrows.
The chin strap should be snug, so nothing more than a finger can fit under it.
To make sure the helmet fits correctly, have your kid yawn wide. If the helmet does not pull down on his or her head, you need to tighten the chin strap.
If the helmet rocks back two or more finger-widths above the eyebrows, you need to shorten the front strap. If the helmet rocks forward into the eyes, the back strap needs to be tightened.
But a helmet's protection is only as good as its construction, and two organizations — the Consumer Product Safety Commission (CPSC) and American Society for Testing and Materials (ASTM) — work to ensure helmets' components are ready to protect. Always look for at least one certification before purchasing a kids helmet. All the below helmets, for both boys and girls, pass that test. As for which helmet, well, the rest is up to you and your child. If you opt for a basic design but your kid wants something wilder (or sillier), helmet covers offer a cool compromise.
The Best Bike Helmets for Kids
The Best Bike Helmets for Toddlers
Every product on Fatherly is independently selected by our editors, writers, and experts. If you click a link on our site and buy something, we may earn an affiliate commission.
This article was originally published on