The Best Beers to Pair With Snickers, Twix, & Other Halloween Candy
Who knew brown ale paired so well with Snickers?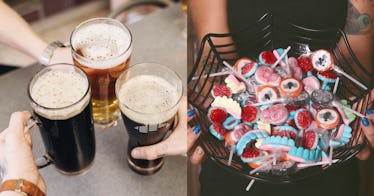 Once trick or treating is over and your kids are safely tucked into bed, you'll probably want to engage in the time-honored tradition of "borrowing" some candy from her bucket of treats. And after a long night roaming the neighborhood, you'll have more than earned a delicious beer. But which pairs best with the candy buffet you're about to explore? For that, we asked some beer experts to see what brews they would drink alongside some of the most popular Halloween candies around. Here's what they said.
Twix
Best with: A Hefeweizen like Funky Buddha's Floridian Hefeweizen, Star Hill's The Love Wheat Beer, Sierra Nevada Brewing Co.'s Kellerweis
Why? Matthew Stock, beer specialist for The Brass Tap, says that notes of banana and clove in wheat beers like Hefeweizens pair nicely with the caramel and shortbread flavors in Twix bars.
Reese's
Best with: A peanut butter porter (which seems obvious in retrospect) like Horny Goat Brewing Co.'s Chocolate Peanut Butter Porter
Why? Jessica Salrin of Growler USA recommends doubling down on the peanut butter goodness of Twix with a porter that is itself made with peanut butter.
Skittles
Best with: A lambic like Lindemann's Framboise
Why? Dave Selden, owner of 33 Books, a company that makes beer tasting journals, rightly points that Homer Simpson may have been to pair Skittles and beer with Skittlebrau. But instead of Duff, he recommends a tart Lambic because "the acidity is a nice contrast to the sweetness.
SweeTARTS
Best with: A saison like Wild Florida Saison, Goose Island Beer Co.'s Sofie, The Lost Abbey Carnevale, Stone Brewery Saison
Why? Stock calls SweeTARTS a "lively and often intense candy" that is balanced out with a "slightly tart, semi-dry, and earthy beer like a saison."
Three Musketeers
Best with: An American porter like Samuel Adams Holiday Porter, Yuengling Black and Tan, Leinenkugel's Snowdrift Vanilla Porter
Why? Stock says that the light sweetness of this old standby has flavors that will be intensified when paired with a rich American porter
Snickers
Best with: A brown ale like Rogue's Hazelnut Brown Nectar or a stout like Guinness
Why? Our experts differed on this Halloween classic. Salrin says that the nutty, caramel base of a brown ale pairs nicely with the peanuts and caramel in a Snickers bar. Selden says that the combination of salty and sweet that makes Snickers the "balanced meal" of candy bars means that it pairs well with stouts, known as the "meal in a glass" of the beer world. The dryness of a stout goes well with the sweetness of the candy.
Candy Corn
Best with: A Vienna lager like Green Room Brewing Vienna Lager, Dos Equis Amber Lager, or Great Lakes Brewing Co.'s Eliot Ness or a vintage old ale like North Coast Brewing's Old Stock Ale
Why? In our second split decision, Stock recommends a light, refreshing Vienna lager to wash down the intense sweetness of candy corn while Selden said that vintage old ales have the subtle malt sweetness that brings out the vanilla flavor of candy corn.
Caramel Apple Pops
Best with: A cider like Original Sin Hard Cider Black Widow
Why? We're fudging our own rules with a non-beer pick here, but drinking an apple beverage with an apple candy seems like a no-brainer. Salrin says that this lollipop pairs well with many cider options, but that the spooky name of the Black Widow from Original Sin makes it an extra-festive choice.
This article was originally published on