The 10 Best Seasonal Beers to Stock In Your Fridge This Fall
From one-season-only limited releases to old fall favorites.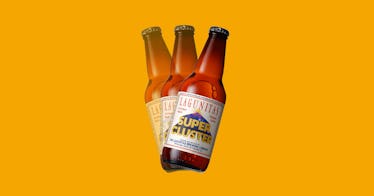 Is there a better beer season than fall? As summer fades, we say farewell to those crisp saisons and pilsners and make room in the fridge for fuller-bodied favorites: the lagers, the ales, the IPAs. In preparation for the changing of the season, brewers across the country, and world, roll out limited releases alongside reliable seasonal favorites, all of which you need to seek out, stat.
"Autumn is the time to start adding in some more full flavored beers to your rotation, something that helps you deal with the chill in the air," says Derek Ridge, Beer Manager at Hazel's Beverage World in the defacto craft beer capital, Boulder, Colorado. "I think the perfect beer fridge at this time of the year should be a mixture of more full flavored seasonal beers and some lighter offerings, that way you have all the bases covered depending on the weather and your mood." Here, per Ridge, are ten fall beers to add to your fridge, from rare seasonal offerings to old favorites. Consider it your fall beer bucket list.
Sierra Nevada 2018 Oktoberfest
For the last four years Chico, CA based Sierra Nevada has rolled out a special gift to beer drinkers each fall, a collaboration Oktoberfest beer created with brewers from some of Germany's best breweries. This year they are working with the oldest brewery in the world Weihenstephan, located in the heart of Bavaria. Their resultant beer is an Märzen style lager that has a nice maltiness with a hint of the hop flavors Sierra Nevada is known for, and will only be here once.
Founders Mosaic Promise
Fresh and clean, this single hop brew from Founders Brewing Company is the perfect companion while you watch the heat of summer slowly fade away. It has a nice layering of citrus and piney flavors from its Mosaic hops, but those are nicely balanced by the sweetness of the malt. At 5.5 percent ABV it will help you shake off the aches caused from raking the yard, but not leave you seeing cross-eyed after sipping a few.
Bells Best Brown Ale
Is there anything more satisfying than a pint of brown ale on a cool fall evening? We think not. The malty flavors that are imbued in them seem to pair perfectly with the changing of the seasons. This beauty from Michigan based Bell's Brewing has a slightly toasty taste with ample caramel, cocoa, and toffee flavors with just a dash of hops to ensure everything is in line. Perfect.
Avery The Kaiser
This two-time medal winner from the Great American Beer Festival (GABF) is a flavor loaded beast that has long been a favorite of beer aficionados. Experimenting with the hop levels in beers has always been in Avery Brewing Company's DNA, and they certainly don't disappoint with this Imperial Oktoberfest Lager. Brewed with two types of hops and malts it blends spiciness and sweetness together to create one memorable beer. Just be forewarned, at eight percent ABV they have a kick that can make you forget all about that football score.
Lagunitas Super Cluster
Leave it to the irreverent folks at Lagunitas (they have mocked the government and others with their beers) to buck the trend and put out a big beastly IPA for the fall. And why not? Just because it's getting colder you don't have to abandon your love of IPA's. This beer is loaded with Citra hops and delivers a strong floral nose that pairs perfectly with the potent grapefruit and pineapple flavors you receive with each sip. It's potent at eight percent ABV, but oh so good.
10 Barrel Brewing Crush Cucumber Sour
At first glance you might pass by this beer, I mean cucumber sour sounds more like a facial cream, but you would be missing something damn good. This is an incredibly well crafted beer that has won several awards and is the perfect session beer at five percent ABV to wave goodbye to the hazy hot summer days as they leave. The slight sour fruit forward flavor pairs perfectly with the cucumber base to create a refreshing beer that pairs with most foods by not overwhelming their flavors.
Firestone Walker 805 Beer
Step up your tailgate by filling your cooler with this blonde ale from California based brewer Firestone Walker. While everyone else sips on their watery brews you can enjoy the full flavors of this beer knowing that at only 4.7 percent ABV you won't be swaying at kickoff. It has everything you want in blonde ale—a hint of hops, a slight sweetness, and a clean finish. With 50 medals from the GABF under their belts these folks know how to make good beer.
Dogfish Head Punkin Ale
As reliable as the geese migrating south, the arrival of pumpkin beers in your local liquor and grocery stores means that fall is arriving. Save yourself the headache of trying to find a memorable pumpkin beer this year, there are many that are not that great, and grab this one from the near mythical Dogfish Head. Brewed with pumpkin meat, brown sugar, and spices it is packed with flavors, yet not too sweet like so many others in the category are. At 7.0 percent ABV it will warm you on those cold evenings.
Samuel Smith's Nut Brown Ale
As one of the older breweries in Britain the beers of Samuel Smith's have graced our shores for decades, and for good reason, they make excellent old-world style beers. Their Nut Brown is made with water drawn from a 250-year old well, is fermented in classic open aired containers, and is chock full of flavors. It pours slightly reddish brown with a rich and malty flavor that has hints of nuts and caramel.
Ayinger Oktober Fest-Märzen
A Vienna style Märzen, this beer is from the German brewer Ayinger, mostly known for their Celebrator Dopplebock. This is a full flavored beer with heady malt flavors but it also has hints of cloves and hops that make it perfect for tossing back during those last few meals outside. It's consistently rated one of the best Oktoberfest beers in the world and at only 5.8% ABV it won't leave you reeling after having a few.