The Best Beer and Shot Combos, According to Bartenders
We asked bartenders around the country for their favorite beer and shot pairings. We were not disappointed.
by Nicholas McClelland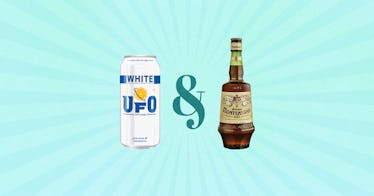 Walk into any dive bar in the country and you're likely to spot a sign for a beer and a shot combo. It's a strong way to start out any happy hour or celebrate with friends. And while there's nothing wrong with the standard PBR and well whiskey, there are far more exciting beer and shot combos to try that awaken your palate and change the way you view the otherwise ordinary suds and spirit pairing. Ever chase a shot of Mezcal with a Modelo? What about a White Ale with Fernet? These are just some of the suggestions bartenders and restauranteurs around the country offered up when we asked them what beer and shot combos they prefer after a long shift. The pairings are more thoughtful than the standard fare and are excellent on a summer day when you're in the mood for a one-two punch. Here, then are eight beer and shot combos to try.
"Warm summer days have me switching from whiskey and hops to cervezas and agave," says Casey Lyons, lead bartender at Pacific Hideaway in Huntington Beach. "My quintessential summer boilermaker is designed to help you get through these warm months. I prefer a Modelo Especial and a shot of Momento Verde Mezcal. A bright, spicy, and slightly smoky mezcal with a subtly sweet cerveza are the perfect combination for day drinking or sunset sipping."
"I enjoy finding harmony and balance in the most unlikely of ingredients," said Shawn Chen, head bartender at New York's farm-to-table inspired modern Chinese restaurants Red Farm and Decoy "Therefore, I also like unusual parings when it comes to spirits and beer. I think Fernet Branca and Hitachino White Ale makes a great combo as an after-dinner digestif. The bitter and anise flavors of the Fernet pair seamlessly with the slightly sweet and citrusy Hitachino White Ale."
"My favorite Beer/Shot combo is chilled shot of Gammel Opland Aquavit with a Reverend Nat's Hard Cider," says Kelley Koppinger, Director of Food & Beverage, The Keep in Columbus Ohio. "The earthiness of the apples and anise reminds you of a nice slice of apple pie."
Old Style and Malort
Chicago's Acadia Bar Program Director & Spirit Curator Rob Brouse looks to his heritage when calling for a shot and beer. "Being a good German boy and having been raised in a family that cherishes our German traditions my personal favorite shot and beer combination is a shot of good kirschwasser with a half-liter of Hacker-Pschorr Munchner Gold,' Brouse said. "But having adopted Chicago as my home I love a Chicago Handshake: Malort and an ice cold can of Old Style, after a long shift behind the bar."
Owner of a pair of Cincinnati spots, Sundry and Vice and Comfort Station, Stuart King digs a fruity spin on a boilermaker. "One of our favorite beer and shot combos, is a boilermaker we've had on the menu at Sundry. That usually is Plantation Pineapple Rum and Weihenstephaner Hefeweizen," he said. "Plantation is wonderful rum with notes of banana, citrus peel, spice and smoke, along with the pineapple that pairs perfectly with the wheat, citrus and banana notes found in many Hefeweizens. It creates the perfect summer boilermaker."
Bar Director at The Times Square Edition Salvatore Tafuri's go-to pairing is Tecate with a shot of M&M (Montelobos Espadin Mezcal and Amaro Montenegro). "There is nothing better than talking with my father over beers, and the addition of the M&M–an interesting combination of 2 different spirits–can lead to different ways of thinking about things. It adds up to a great father/son night."
"I love to pair Anderson Valley Watermelon Gose with a mezcal, like Del Maguey Chichicapa," says Meaghan Dorman, bar director and partner at New York's Dear Irving on Hudson. "The fruit and salt of the sour style beer plus smoke and salinity in mezcal is really fun and great in hot summer weather."
"UFO White has the type of complexity that makes you wonder what you just put in your mouth," says Andrew Holmes, Corporate Food & Beverage Director, First Hospitality Group. "It's a white ale that exhibits a subtle expression of coriander muddled into orange peel. With the Amaro Montenegro's light sweetness and the bitterness, it completely balances the beer's acidity, This combination brings out an earthy coalition between the two beverages. I guarantee a second round."
This article was originally published on