This Awesome Inflatable Couch Is Our Favorite Portable Summer Seat
It sets up in less than 30 seconds, requires no pump, and packs flat. Oh and it's feels like you're sitting on a cloud.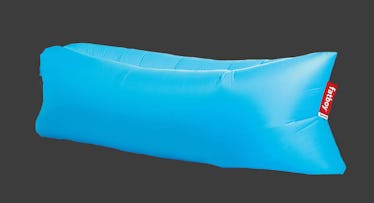 Since the dawn of time, man has sought the perfect way to lounge. And we've come a long way from "find the softest rock." And we may have reached peak portable comfort with the Fatboy Lamzac. The giant inflatable couch is ultra portable, and extremely cozy while not sacrificing size, durability, or value. It's our favorite chair for the beach, park, backyard and everywhere in between.
Have you ever wondered what it would feel like to be a giant rubber chalupa? Probably not since college, but the Fatboy Lamzac answers that question. The inflatable couch starts as a flat bag that features large compartments that you fill with air when you reach your sitting destination. Open the first one, and swing the Lamzac forward in a straight line to scoop up some of your locale's finest atmosphere. Close the compartment, then repeat the process with reservoir number two. From there, you simply fold the flap down a few times like you're packing a brown-bag lunch, clip it off, and you're ready to enjoy the comfy embrace of a 78.7 inch billowy hug wherever you and the family decide to base camp. With some practice, set up and tear down can each be accomplished in less than 30 seconds.
The Lamzac is made of durable, abrasion-resistant, ripstop nylon, which means that its dual compartments and soft covering can withstand every outdoor activity from beach lounging to festival hopping. The Lamzac is perfect for travelling, too, as it compresses down to a mere 14" x 7" footprint when deflated, weighs only 2.6 lbs, and comes with a fitted backpack for toting it anywhere effortlessly,
Designed to accommodate two average-sized adults, the Lamzac can be used as a fully-functioning sofa, lounge chair, or loveseat for you, or a bouncy catchall for your brood of youngsters. The full capacity is 440 pounds when properly inflated, so you've got plenty of space to fill no matter where you decide to chill out.
And, because we know you're going to ask, the Lamzac's outer cover is dirt and moisture-repellant, making it easy to clean (lukewarm water on a damp rag, with neutral soap is the recommended recipe), and to reuse day after day. You can even bring it indoors for movie nights and sleepovers without worrying whether or not your vacuum can handle the aftermath.
While inflating the Lamzac may take some practice, it's certainly quicker than the average air mattress, which can take several minutes to blow up using an electric pump. And best of all, you don't have to rely on finding a power outlet to ensure a proper fill — just your grace and technique. Once it's filled, you'll get a solid 4-6 hours of "lounge time" — depending on the vigor of your squirming around — before you have to re-inflate.
The Lamzac does have one or two holes in its otherwise perfect design. Most notably, even though the covering is moisture resistant, sweating on a hot day will fill up the crevice drip-by-drip and make the overall experience a bit sticky. Not a huge problem, unless you happen to be David Hasselhoff's armpits, but still a bit of a nag. Our suggestion? Lay down a soft towel base before you climb in, and you'll stave off the sweat (and stench) while you sprawl out.
Bottom line? The Fatboy Lamzac is a big hit. It's perfect for just about everything you can imagine that involves being lazy on a summer day. At a tick less than 40 bucks — lower than the cost of most fancy beach lounge chairs — you can't beat the value of a great snooze between those welcoming rubber flaps.
Every product on Fatherly is independently selected by our editors, writers, and experts. If you click a link on our site and buy something, we may earn an affiliate commission.
This article was originally published on