The Best Bathroom Scales Do Far More Than Display Your Weight
Today's smart scales are vital tools for tracking overall health, keeping tabs on such stats as fat, BMI, and more.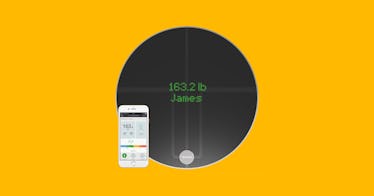 Modern bathroom scales aren't mere weight-displayers with wonky needles; they're vital tools for tracking your health. They measure everything from bone density to muscle mass, helping you track how those revealing metrics change over time.
"You should look at your scale as a tool to help you fine-tune your body," says Christian Castaneda, a certified personal trainer at Colorado Nutrition, a family-owned wellness company. He recommends picking up a scale that will track, at a minimum, muscle mass, body fat, and water retention so you can get a better idea of what is happening with your body and adjust your fitness plan accordingly. Following Castaneda's advice, here are five connected scales that measure your weight and so much more.
Best Affordable Bathroom Scale: 1byone Bluetooth Body Fat Scale
The least expensive option on this list is this toughened glass platform with four electrodes and a bright digital display. It weighs you in 0.2-pound increments between 11 and 400 pounds, collects seven other measurements like body water and muscle mass, and connects via Bluetooth to a companion app and major fitness platforms like Apple Health and Google Fit.
Best Mid-Priced Scale: eufy Smart Scale C1
We used to recommend the previous version of this scale, so we're excited that this similarly priced update claims a 10 percent improvement in accuracy. It has a large deck to stand on and an easy-to-read display that shows your weight down to the tenth-of-a-pound. The scale provides 12 different measurements including BMI, bone mass, and visceral fat. It can handle the profiles of up to 16 different users and runs on three AAA batteries.
Best Scale for Small Bathrooms: Yunmai Smart Bluetooth Scale
This is the scale to get if you don't have a ton of space. The polymer and steel scale measures just about 10 inches on each side and weighs a paltry two pounds, so it's easy to store when not in use and pull out when you want to weigh yourself. This compact package still manages to squeeze in ten different measurements, Bluetooth connectivity, and FitBit compatibility.
Best Looking Scale: QardioBase 2
In lieu of the square shape of the other scales on this list, the sleek QardioBase 2 has a round shape. Step on the scale and the heretofore unseen LED display in the center lights up. The scale vibrates when it's done measuring and the display shows your stats along with a smiley face that reflects your progress (or lack thereof) since your last weigh-in. Instead of AAA batteries, this scale runs on a battery that you'll need to recharge just once a year under normal use. It comes with Bluetooth and Wifi sync along with a dedicated pregnancy mode that puts weight gain in the context of changes by trimester and lets moms-to-be attach bump photos to their weigh-ins so they can see their progress over time.
Best Scale for Fitness Fiends: Withings Body Cardio
This minimal-looking scale from Withings (previously Nokia) is for anyone who wants a maximally neurotic understanding of their fitness. The moment you step on board it begins a full body composition analysis that it displays on the screen. It transmits that information to an app so you can follow it from your phone. It tells you your BMI, total body fat, water percentage, muscle, bone mass, and standing heart rate. The scale, which has a beautiful aluminum base, can track up to eight different individuals, has a pregnancy tracker, and can pair with your Apple watch and Amazon Alexa.
This article was originally published on