The Best Kids Baseball Gloves For Every Style of Play
The right mitt can make all the difference between a player who snags every fly ball and one who hates taking the field.
by Dave Baldwin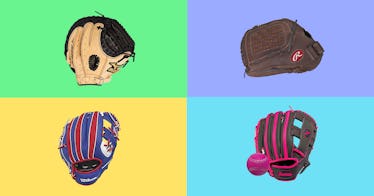 Playing little league or youth baseball — or just having a throw with dad — is a rite of passage for many kids. Whether your child is just starting out and needs a toddler baseball glove or has already has a few seasons under his or her belt, the best kids baseball gloves are those that are comfortable, durable, and flexible for all styles of play. Sure, different kids (and positions like catcher) need specific kinds of mitts, but the best youth baseball gloves are, above all else, forgiving enough to be used in nearly all scenarios.
The proper glove can make all the difference when it comes to scooping up a grounder or snagging a fly ball. Many T-ball or youth gloves are often designed to open and close more easily than a standard baseball glove, for instance. And many come 100 percent broken-in, so kids can play from day one rather than spend a week oiling/staring at a belt-wrapped glove on the shelf. Most use a soft leather or leather-like material with extra palm padding to protect little hands. Finally, baseball gloves for kids under 10 are generally sized between 9- and 11.5-inches although some even come with adjustable wrist cuffs to ensure the perfect fit.
The Best Kids Baseball Gloves
Every product on Fatherly is independently selected by our editors, writers, and experts. If you click a link on our site and buy something, we may earn an affiliate commission.
This article was originally published on