The Best Bats For Tee Ball Season
Sure, proper form matters. But a good bat can make all the difference. Here are eight bats that will help your little slugger bring the hits.
by Dave Baldwin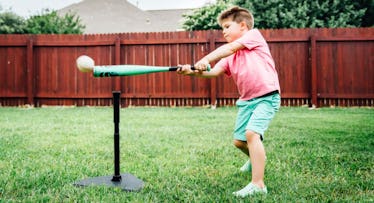 The easiest way to get kids to fall in love with baseball? Teach them how to consistently knock the hell out of the ball. By far, hitting is the most fun part of the game (second maybe to catching fly balls?), and a kid who's good at hitting is a kid who sticks with the sport. But for all the focus coaches put on stance, bat speed, and hand-eye coordination, none of it makes any difference if a kid has the wrong baseball equipment. Which is why getting them started with the right youth baseball bat for tee ball is key.
RELATED: American Kids Stink at Soccer Because of Baseball
Now, there are a few things to consider when finding the right bat for little sluggers. First? These youth baseball bats aren't designed for live pitching, they're meant to swat a ball off a stick. Next, they're also generally sized for kids age six and younger who stand less three-and-a-half feet tall and weigh less than 60 pounds. Size-wise, the bats are usually 24- to 26-ins. in length and weigh between 10.5 and 14 oz. But you also want to pay attention to "drop weight," the difference between the length and weight of the bat. The higher the drop weight (the larger the negative number), the lighter the tee ball bat feels. Finally, baseball bats are made in either one or two pieces. One-piece bats are generally stiffer, two-pieces have more give.
ALSO: Baseball Fans Donate to Kid Collector Who Lost Cards in the California Fires
While there are plenty of perfectly fine bats out there to get a kid started (it is hitting a ball off a stick, remember), these eight from the top manufacturers won't break the bank and should help your kids eventually own the down-and-away fastball.
Easton MAKO Beast
Named after what you hope your kid eventually becomes at the plate, the 2017 Beast is billed as Easton's 'most powerful composite bat' to date. Which is saying something considering the company's been making bats since Tom Seaver won the Cy Young (1969). The super-light one-piecer (so both the barrel and ultra-thin handle are made of the same reinforced carbon fiber polymer) is designed to help youth players generate swing speed. It sports a cushioned grip, rolled end, and comes in three sizes.
Bat Size: 24in/10.5oz, 25 in/11.5oz, 26in/12.5oz (-13.5)
Rawlings Girls' Storm
As Rawlings notes when pimping the Storm: "It's called 'fastpitch softball' for a reason." And getting the lumber around on a dime is crucial. To help up-and-coming softballers do just that: the Storm. It's a hot pink, 26-incher that's made of a durable alloy and rocks a standard 2.25-in. barrel and -12 drop weight.
Bat Size: 26 in./14 oz. (-12)
Mizuno Covert
Nothing ruins youth baseball for a new player like repeatedly whiffing at the damn ball. Especially if it's on a tee — how embarrassing. To help Junior make contact every time, the Mizuno Covert boasts a 35 percent bigger sweet spot than the average stick thanks to the company's two-piece hybrid design: the single-wall barrel is made of aluminum alloy, while the handle is composite and wrapped in a super-helix grip. Hopefully, that adds up to kid who doesn't strike out standing at a tee.
Bat Size: 25 in./12 oz. (-13)
Marucci Cat6
For that Tee baller who likes to chase pitches low and outside, the Cat6 has an extended barrel for more plate (okay, tee) coverage. The one-piece youth baseball bat is made from a durable AZ3000 alloy and employs a "patented anti-vibration knob" to help keep young hitters hands from ringing out in pain. It comes in two sizes (25- and 26-in.) and can even be custom engraved if you buy it through the company's website.
Bat Size: 25 in./13 oz,, 26 in. /14 oz. (-12)
Combat Maxum
The key to Combat's all-new Maxum series is the seamless construction, which—not to get too technical—means a single piece of carbon fiber runs the length of the youth baseball bat. The result is no dead spots. The Tee ball version boasts "optimized barrel compression for maximized performance" and is suppose to provide up to 40 percent more hitting surface. It's also the longest bat on this list at 27-in., as well as the relative lightest with a -14 drop weight.
Bat Size: 25 in./11 oz., 26 in./12 oz., 27in/13 oz. (-14)
DeMarini Voodoo
The all-new Voodoo from DeMarini is billed as a lightweight "aluminum monster." The barrel is made from a X14 alloy while the composite "D-Fusion 2.0 handle" is supposed to reduce vibration and redirect energy away from the hands.
Bat Size: 25 in./13 oz., 26 in./14 oz. (-12)
Louisville Slugger Prime 918
This one-piece alloy bat is lightweight with a synthetic grip, giving your kid maximum control over their swing. As if that wasn't enough, it also has a slender two 1/4-inch diameter and a drop weight of 12.5. The numbers don't lie. This bat could make Junior a star at the plate.
Bat Size: 24 in./11.5 oz., 25 in./12.5 oz., 26 in./13.5 oz.
2018 Axe Origin
Sometimes a good swing is all about power. That's what the Axe Origin is for. It's a one-piece bat, with more weight at the end to send that ball flying. Plus, the handle is designed to make it comfortable to hold and increase the user's control over the bat.
Bat Size: 24 in./13 oz., 25 in./14 oz., 26 in./15 oz. (-11)
This article was originally published on