Best Backup Batteries & Powerbanks For Refueling Phones & Tablets
No outlet? No problem. These five portable powerbanks pack enough energy to revive all of your electronics.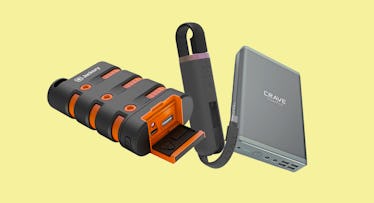 Until they develop batteries that last years, modern life means making sure our devices are charged. This is doubly true for parents who depend on their phones to get calls from school, navigate to soccer practice, and keep the kid entertained with an episode of Paw Patrol in line at the grocery store. A portable charger, a backup battery that you can keep on hand when your tablet is low on juice, is invaluable.
Because while battery life has certainly become more efficient since the early days of smartphones, backup batteries are still a necessity for anyone who doesn't want to be caught without any juice. They allow you to recharge your electronics on the go and in situations where you don't have the time or access to an outlet. Charge them as you do any other device and then, when your mobile devices need some juice, plug them in and watch that percentage climb.
Now, there are a lot of backup batteries out there. They come in various shapes, sizes, and, most importantly, capacities, from one to 20 phone charges. To help you choose a quality model, we picked our favorite backup batteries for all kinds of different situations.
Pros: There's no need to carry around a cord, because the Flipstick comes with one that flips out from the bottom of the charger. You can choose a standard micro-USB, Apple lightning connector, or USB Type-C depending on which devices you need to charge on the go.
Cons: The small size of the Flipstick means its capacity is limited, so don't plan on getting more than one full phone charge out of this thing.
Pros: Anker's patented PowerIQ tech ensures devices charge rapidly (up to 2.1 amps) and, thanks to the included cords, it's able to charge everything from standard USB-fed devices to Macbooks and smartphones.
Cons: The PowerCore 20100 is a middle option, so it's not great if you need a ton of portability, durability, or capacity. It doesn't support Qualcomm Quick Charge found on many newer phones.
Pros: It's more of an outdoor survival tool than a simple charger, as there's a built-in flashlight, compass and strap.
Cons: It's kind of a chunky item, and the orange and black color scheme isn't exactly stylish.
Pros: Each of the outputs is equipped with technology that detects and delivers the optimal charging current.
Cons: You have to be careful where you place this. If it's on top of a hot surface — a sun-baked rock, for instance — it can overheat, reducing the sunlight to electricity conversion rate.
Pros: This beast has four classic USB ports and two different laptop charging ports, one at 5 volts and the other at 12. It also comes with 14 different laptop charge connectors for a variety of charging tips. It also comes with a carrying bag!
Cons: There aren't any USB-C ports or MacBook charging tips, and at 2.77 pounds this isn't the most portable pack in the world.
Pros: This charger automatically adjusts the optimal current for your device, so it's always operating at the optimal charging speed. It also has traditional USB ports so you can still charge your older devices.
Cons: At nearly seven inches long, this charger isn't quite small enough to keep in your pocket.
Pros: The headlining feature here is wireless charging, but this pack also has USB-A and USB-C output ports that can be used simultaneously the charge multiple devices. It also has Quick Charge 3.0, a technology that can charge compatible phones up to four times faster than standard power banks.
Cons: Some users complained that with wireless charging you don't get the same three charges from the battery wirelessly that you do when using a cable.
Every product on Fatherly is independently selected by our editors, writers, and experts. If you click a link on our site and buy something, we may earn an affiliate commission.
This article was originally published on